Humans Were Never Meant to Hibernate!
Why hibernate until spring? Take advantage of the cold and snow, embrace your adventurous spirit, and learn an outdoor cold weather sport. Winter sports are a great way to keep active during those cold winter months.
Many winter sports are social or family-oriented and building strong bodies and minds are just two of the benefits of participation. Advances in winter sport equipment design have decreased the learning curve and light-weight and cozy apparel keeps the cold away and the body flexible.
Before you begin any form of exercise, be sure to talk with your doctor or health care provider. Have a medical check-up, especially if you are over 35 years of age.
Types of Winter Sports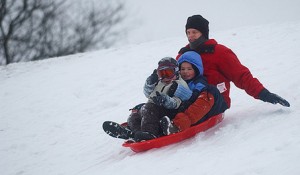 Sledding or Tobogganing. Minimal equipment required and it can be used again and again! Sledding, for those unfamiliar with the concept, involves traveling down a snowy hill (away from roads and cars of course!) on a flat device that will glide smoothly across the snow, e.g sleds, toboggans, discs or tubes.
There is speed, snow and lots of laughs for all. Sled and toboggan runs used to be everywhere. Now they are less common, but here's a list of runs organized by state.
Ice Skating. There are many types of ice skating: figure skating, ice dancing, speed skating and of course, hockey. Ice skating is an exhilarating, relatively inexpensive activity that provides an excellent source of exercise and entertainment for the entire family. Skating is a high aerobic activity that works out all parts of your body, improves muscle tone and balance, increases metabolism and improves self confidence.
Serious skaters should invest in a pair of good skates, but the occasional skater can always rent a pair for daily use at their local rink. There is a definite learning curve with any form of ice skating, which may result in a few falls. Be sure to wear the appropriate protective gear (helmet, knee and elbow pads) to avoid serious injury.
Many communities have indoor ice rinks where you can skate year round. Arena Maps and Find Rinks are two places to find a rink in your area. If you want to find a local rink that allows you to skate outdoors your best bet is to check your local Parks and Recreation website for locations.
Warning: It can be tempting to skate on the local pond, lake or river but that can be dangerous! You could fall through the ice and not be able to climb out again. Never skate in areas like this unless they have been tested and never skate in these areas alone or at night.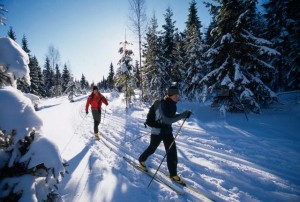 Cross Country Skiing. Living in a cold and snowy area doesn't mean you are in the mountains or near an Alpine ski resort. But living far away from mountain ranges doesn't mean you can't ski. Cross Country skiing is a slower and gentler alternative to downhill skiing.
Cross country skiing is easy to learn, accessible (sometimes you can ski out your own front door) and relatively inexpensive. Cross country skiing is a great work-out, but still gentle enough for ALL ages, from tots to grandparents.. The sport involves simultaneous use of arms and legs utilizing ski equipment including boots, poles, and skis. The main difference between cross country and alpine skiing is the heel is "free" in cross country skiing which allow you to ascend hills as well as descend and of course move across flat terrain.
It's possible to cross country ski in most parks, outdoor recreation areas or even a local field, but there are also more than 350 cross country ski areas in the U.S. and Canada. These areas are designated and groomed for cross country skiing with trails of varying difficulty and other amenities. Most are less than two hours from urban centers and many are even within an hour's drive.
Cross country skiing does require some special equipment, (boots, skis and poles), though it is one of the least expensive of winter sports. If you aren't sure if you want to make a long term investment in equipment check your local winter sports equipment store to see if they have rental options. Most cross country ski resorts will have equipment rental packages available.
Here are two sites to find a cross country ski area in your neighborhood.
Cross Country Ski Area Association
Snow Shoeing. If you can walk, you can snowshoe. There is no easier way to enjoy the outdoors in the winter than to strap on a pair of snowshoes and head out for a slow walk, or a more energetic hike up the side of the mountain.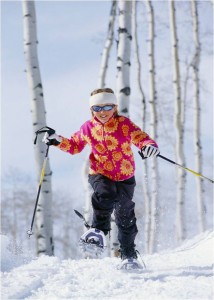 Although snowshoeing has been around for thousands of years, it is now the fastest growing winter sport. Snow shoeing is great because it is very gentle on the body, provides a total body workout, and burns as much as 600 calories per hour, 45% more than walking or running!
Prime areas for snowshoeing are at Nordic centers, which are usually in or around a ski resort. However, other types of snowshoeing destinations include bed and breakfast inns, mountain lodges, local, county, state and national parks, snow-covered golf courses, and much more.
Alpine Skiing (or downhill skiing) is the sport of sliding down snow-covered hills on skis with fixed-heel bindings. Alpine skiing takes place at a ski resort, usually in mountainous areas. Mechanical ski lifts have been installed to transport skiers up the mountain, trees are cut to create trails, snow is groomed and avalanches controlled.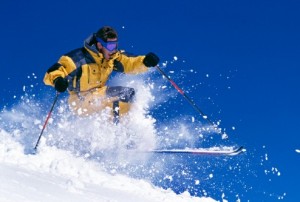 This is definitely the most expensive of the winter sports and certainly not for the faint-of-heart. It requires specialized equipment with higher price tags than cross country skiing or snowshoeing and of course lift tickets can come at a high price too. However, equipment can be rented either from a local ski shop or at the resort. Many resorts do offer lift ticket deals especially during mid-week.
Snow Boarding is a relatively "new" winter sport, growing in popularity with roots in downhill skiing, surfing and skate boarding. Snow boards resemble a wide single ski and use a special boot and binding to keep the feet into place during use.
Ski resorts are the place to go to snow board so some of the cautions for alpine skiing surrounding equipment and price are the same for snowboarding.
Curling is a team sport played on ice. Two teams with four players each, take turns sliding eight heavy, polished granite stones across the ice towards a circular target. Points are scored for the stones resting closest to the center of the target at the close of each round (or end).
The curler can influence the path of the stone which may be further influenced by two sweepers with brooms who follow the stone using the brooms to alter the state of the ice in front of the stone. A great deal of strategy, teamwork and skill goes into choosing the ideal path and placement for each turn, making this game called "chess on ice".
Find a curling club near you.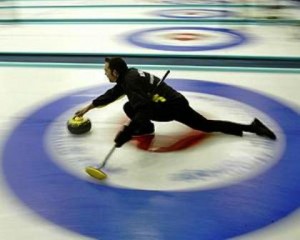 Broomball is a team sport played at a hockey rink, either indoors or outdoors, depending on climate and location. Broomball is played with two teams consisting of six players: a goaltender and five others. The object of the game is to score more goals than your opponent. Goals are scored by hitting the ball into your opponent's net using your broom. Tactics and plays are similar to those used in sports such as ice hockey, roller hockey and floor ball.
Players hit a small ball around the ice with a stick called a "broom." The broom may have a wooden or aluminum shaft and has a rubber-molded triangular head similar in shape to that of a regular broom. Players wear special rubber-soled shoes instead of skates, and the ice is prepared in such a way that it is smooth and dry to improve traction.
Find a broomball team near you.
Not only can winter sports be enjoyed by people of all ages, any winter sport can be adapted so that individuals can participate throughout their lifetime—regardless of ability level or physical challenges.
Stay Warm While Participating in Winter Sports
Safety Tips
As a person with diabetes you need to observe some safety precautions, plus!
Carry Medical Alert ID. Sometimes seconds can make the difference in a life and death situation. You want emergency professionals to know your status.
Carry Contact Information. In addition to emergency contact information, also carry the name and number of your primary care physician. Also be sure to carry your medical insurance card and emergency number for your medical insurance company.
Always carry your meds and testing supplies and test your blood glucose levels before and during physical activity.
A pre-exercise glucose range of 140 – 250 mg/dl is considered acceptable. If it is less than 70 mg/dL, treat the low, and wait to exercise for a few hours. If it is 71-100 mg/dL, have a snack.
If you have Type 1 Diabetes and your glucose is above 250 mg/dL, check for ketones and only dance if your ketones are negative.
If you have Type 2 Diabetes and feel well, you can exercise with glucose less than 300 mg/dL.
Listen to your body. If you are participating in extended periods of physical activity, listen to your body for signs you might be going low and check your glucose at least every hour.
Carry snacks. (and a source of rapid-acting glucose like Dex4 Glucose Tablets) to replenish energy burned or to treat for lows. Remember, 15 grams of carbohydrate last for about 30 minutes of exercise.
Check the weather for snow and ice conditions prior to starting out. Pay attention to warnings about upcoming storms and severe drops in temperature to ensure safety while outdoors. This is especially important if you are participating in skiing or snow shoeing that takes you onto trails or in the back country.
Two dangers to consider during any winter activity are hypothermia and frostbite. Early frostbite symptoms include: numbness and tingling in your digits, lack of feeling and poor motion.
Signs and symptoms of hypothermia include:
Shivering
Stumbling, clumsiness or lack of coordination
Slurred speech or mumbling
Confusion or difficulty thinking
Poor decision making, such as trying to remove warm clothes, or lack of concern about one's condition
Drowsiness or very low energy
Progressive loss of consciousness
Weak pulse
Shallow breathing
Seek shelter and medical attention immediately if you, or anyone with you, is experiencing hypothermia or frostbite.
Wear appropriate safety/protective gear. Goggles, helmets and padding may be appropriate depending on the sport. Always check your equipment, such as ski and snowboard bindings to make sure they are in good working order.
Never participate alone in a winter sport and observe appropriate safety precautions.
Make sure someone "at home" knows your plans and whereabouts before heading outdoors.
Skiers and snowboarders should stay on marked trails and avoid potential avalanche areas such as steep hillsides with little vegetation.
Avoid sledding on or near streets. Sledding should be done only in designated and approved areas where there are no obstacles in the sledding path.
Know and abide by all rules of the sport in which you are participating.
Warm up thoroughly and know your limits. Cold muscles, tendons and ligaments are vulnerable to injury and exercising in the winter is no exception! Call it a day if you are exhausted or in pain. Many skiers are injured on the final, "one last run".
If injured during any winter excursion and pain or discomfort persists, follow up with an orthopedic surgeon to examine the injury.
Coming in from the Cold
Time spent in the cold makes you think you are hungry, so the temptation to grab something carbohydrate-rich can be overwhelming. Instead, don't completely strip out of your warm clothes, leave on a sweater or a scarf, or wrap up in a blanket.
Drink a cup of warm herbal tea instead of hot chocolate, a coffee drink or spiced cider.
Avoid alcohol, it creates a false sense of warmth and adds extra calories and empty carbohydrates to your daily intake.
Drink plenty of water – cold often causes dehydration, which will make you feel cold. Drinking plenty of water will offset that feeling, keep your stomach a bit fuller and keep you properly hydrated.
Check your glucose levels.
Have a high protein snack such as low fat cheese, baked or grilled chicken or fish.
Sources
Dawn Swidorski — spent 30 winters in Michigan participating in outdoor sports. With the exception of snowboarding and broomball she's tried all the sports listed here in addition to: dog sledding, ice boating and others.
American Academy of Orthopedic Surgeons