Check your blood glucose
No matter what type of traveling you are doing: a Caribbean cruise, backpacking through Europe or a trip to your favorite cabin in the woods, changes in meal patterns, activity levels and time zones can affect your blood sugar levels. So, be sure to test your blood glucose levels more often than normal.
Traveling with others is always more fun and, depending on your travel plans, people with diabetes may want to consider having someone along. This is particularly important if you are traveling to an exotic or foreign locale or if you are going to be undertaking a lot of strenuous activities, such as hiking or camping.
Air Travel Tips
Booking Tickets. Get your ticket and seat early to prevent being bumped. Ask for an aisle seat if you will use the restroom for insulin injections.
Double check what type of food and beverage service is offered on the flight. Most domestic carriers don't serve in-flight meals anymore so, be prepared to bring your own or purchase something in the terminal that fits your needs. International flights, due to their length of time, still offer in-flight meals so, be sure to request a special meal, if necessary.
Before you travel, always check with the Transportation Security Administration for the latest travel updates.
Packing and Security. Your supplies can be taken through security check points, but they must have a prescription label on them. All of your supplies should have a proper manufacturer's label. (what can I take?) Syringes will be allowed through security if you have insulin, as well.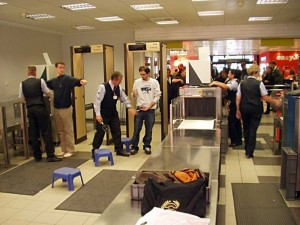 Keep medicines, syringes and blood sugar testing supplies in your carry-on luggage. Do not check these supplies with your luggage, in case it is lost. Some sources suggest that you carry your testing equipment and insulin on your person, in case, for some reason, you can't easily access your carry-on luggage in the overhead bin.
Make sure you tell security that you are diabetic and that you are carrying medical supplies.
If you are wearing an insulin pump, you must notify security. They will visually inspect the meter. You must request that the meter not be removed.
If you have a problem while being screened, you should ask for a supervisor. Calmly explain what the issue is and present any documentation that you have with you to support your diagnosis and right to carry your medical supplies with you.