Description: A red almost heart shaped fruit with green stem.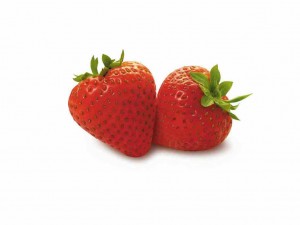 Availability: Fresh Summer – early Fall – Frozen – year round
Facts: Strawberries is a unique fruit because their seeds grow on the outside. One strawberry typically has 200 seeds on it. They are one of the most popular berry in America.
Serving Size = 1/2 CUP
Selection: Choose shiny, firm fruit with a bright red color. Caps should be fresh, green and intact. Avoid shriveled, mushy or leaky berries.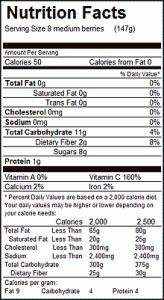 Storage: Do not wash until ready to eat. Store in refrigerator for 1-3 days.
Nutrition Benefits: Fat free; saturated fat free; sodium free; cholesterol free; high in vitamin C; high in folate.
Pigments: anthocyanins
Phytochemicals: ellagic acid, caffeic acid, ferulic acid, glutatione, lignans
ORAC Score: 1,540