How can one superstar athlete stop diabetes before it happens? Start by thinking small.
That was the approach taken by Mark Ellis, the second baseman of the Oakland Athletics, when he partnered with the Washington Hospital Diabetes Program in Fremont, California to host a diabetes prevention clinic for more than 50 children at the Fremont/Newark YMCA.
Ellis has personally witnessed the challenges his loved ones have faced in living with diabetes. He observed how type 2 affected his grandmother, and how type 1 impacted his best childhood friend. This inspired Mark, and his fellow teammate Bobby Crosby, to use their celebrity status to start a "Putouts for Diabetes Program" wherein they each donate $50 to a diabetes-related cause every time they get a player out. This year, they raised $15,000 to benefit the Washington Hospital Diabetes Program (last year's recipient was the American Diabetes Association).
But Mark wanted to do more — he wanted to work with children (perhaps motivated by the arrival of his newborn son, Briggs, and the startling statistic that 1 in 3 children born worldwide will have diabetes in their lifetime).
To make this a reality, the Oakland A's worked with the Washington Hospital Director of Diabetes Services (my lucky day!) via our hospital Foundation. All parties embraced the cartoon concept in which the kids were asked to draw what they thought was healthy eating and being active — two major self management skills needed for preventing and managing diabetes. A few of these charming paintings are pictured below, complete with fruit, veggies and the Oakland A's logo. (My personal favorite was a drawing of a "doughnut + you = man boobies" — not shown to protect the innocent.)
One child's interpretation of preventing diabetes.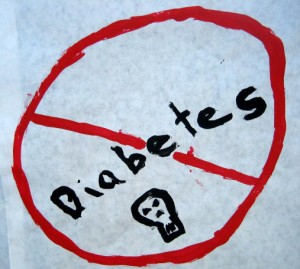 Healthy eating and being active cartoons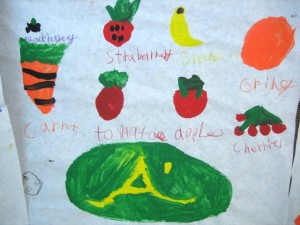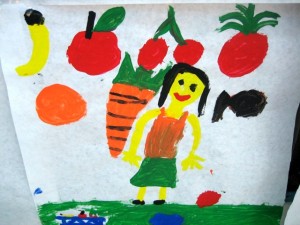 The program included Mark sharing his story with seeing family and friends dealing with diabetes, his risk for getting the disease and the importance of staying active. He had never been tested for diabetes out of fear, a common issue facing many people. Mark showed the children and the media, how simple it is to get tested for diabetes with a simple glucose test done by obtaining a little drop of blood from the fingertip. His glucose was within normal range. He admitted to being relieved and that if he did find out he had diabetes, he knew he could learn how to deal with it.
We shared an interactive format in teaching basics about what is diabetes and how to prevent it. The children were asked to stand and answer ten yes or no questions. A "no" response meant they had to sit down. Very few stood by the end of these questions. Test these out yourself:
1. Did you eat fast food in the past 4 days?
2. Do you watch TV while eating?
3. Do you ever skip breakfast?
4. Do you drink regular soda?
5. Do you eat candy or chocolate everyday?
6. Do you walk, run, run, bike, skip, swim, or play baseball everyday?
7. For at least 30 minutes?
8. Do you have at least 1 fruit and 1 vegetable a day?
9. Do you watch more than 2 hours of TV a day?
10. Do you know how to prevent diabetes?
The group was anxious to ask Mark a few questions as well. Prior to his arrival, they had filled out question cards (this was before they were going ballistic chanting, "El-lis! El-lis!"). The questions asked about his workout routine and what kinds of food he eats (including one asked about junk food). Mark replied by saying he is active everyday and that he eats healthy for the most part. Some questions kids ask are priceless ("Do you smell bad after you run? From a girl age 6.) Unfortunately, he had time for only a handful of questions.
Mark Ellis, Theresa Garnero and several children from the Fremont/Newark YMCA.
The Oakland A's distributed an Oakland A's backpack full of goodies — the baseball cap you see many of the kids sporting — along with a signed bobblehead of Mark Ellis, and diabetes prevention information from Washington Hospital Diabetes Program in addition to a diabetes screening test pamphlet from Defeat Diabetes Foundation.
The power of Mark's connection with these kids was obvious and it will hopefully be a source of motivation for years to come.
Follow Mark's example. Start small and prevent diabetes in one child. Who is a youngster in your life you can impact by setting the example of healthy living?