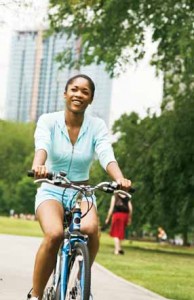 Make physical activity part of your regular routine. Aim for at least 30 minutes of physical activity at least 5 days out of the week.
You can participate in a wide array of physical activities, from archery to yoga, and everything in between. New studies indicate you can even break up your physical activity into 3 or more increments of 10 minutes if you can't allocate more time at once. You can also add small acts of physical activity each day that really add up: use the stairs instead of the elevator; park at the far end of the lot; be physically active during commercial breaks instead of grabbing a snack; walk for local errands (statistics show the average errand within 6/10 of a mile from home).
If you haven't been physically active recently, see your doctor for a checkup before you start an exercise program.
Reach and maintain a healthy body weight. Almost 2/3 of the American population is overweight or obese, so you certainly aren't alone. But almost everyone can shoot to lose 5 – 10% of their body-weight, which is usually only 10 – 20 pounds. Most folks can do that by cutting sugary drinks from their diet, reducing portion sizes, cutting out unhealthy snacking and adding more fruits and vegetables to their diet. Aim for a loss of no more than 1 to 2 pounds a week.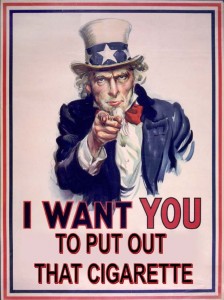 If you smoke, quit. Your doctor can help you find ways to quit smoking.
Ask your doctor whether you should take aspirin. Studies have shown that taking a low dose of aspirin every day can help reduce the risk of heart disease and stroke. However, aspirin is not safe for everyone. Your doctor can tell you whether taking aspirin is right for you and exactly how much to take.
Take your medicines as directed.