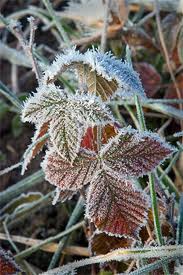 Fall is upon us once again and it's time to prepare the garden for first frost. Harvest what you can before a frost arrives. Jack Frost is most likely to come when the night is clear and there is no cloud cover to hold the heat into the earth.
If the air is dry and the temperature is 45 degrees Fahrenheit or colder by l0:00 p.m. then watch out—he's coming! Cold air always sinks to the lowest point it can, but it can't travel through a solid surface. So, any plant that is under any surface (like cloth, plastic, and/or cardboard) is less likely to be damaged by a light frost.
There are many things you can use as frost protectors such as old blankets, towels or sheets. To keep crops growing even longer, you can use more elaborate structures and cold frames or build a mini greenhouse for peppers, tomatoes and other tender plants. Wrap your tomato cages with clear plastic and then cut small vents into the sides for ventilation. Cut off the top of plant and cover it with plastic, cardboard or a blanket on frosty nights.
If you forget to cover your plants, remember you may be able to revive hardier crops like chard, collards and mustard. Simply sprinkle them with water from the garden hose before the sun shines on them and then wait to see what happens.
Toward the end of the growing season, pinch off all blossoms and the smallest green tomatoes that have no chance of maturing in the growing time left. The roots will be able to devote more energy to the remaining fruit so that it can grow and ripen more quickly. Use small green tomatoes to make green tomato relish—nothing to be wasted.
Did squirrels and chipmunks eat chunks out of your tomatoes this year? They do that to quench their thirst. Quick fix: Install a birdbath or other water source in your garden. This gives them an easy drink and they might leave your tomatoes alone.
Were you always losing your small garden tools in the grass? Quick fix: Paint the handles a bright color such as yellow or orange and then they will always be easy to see wherever you leave them.
If you have any questions about taking care of garden tools or how to put your garden to bed, the archives are there for your reference.
Never let today's disappointments be tomorrow's discouragements for gardening. Just keep trying and seek answers for your problems.