Description: Round juicy fruit with downy yellowish-red skin and a rough stone.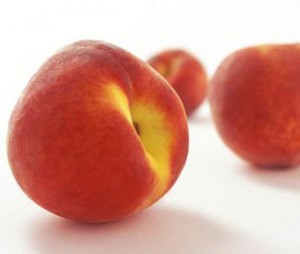 Availability: Fresh – Summer /Canned and Frozen year round
Facts: Peaches are from Chinese origin. They go back to the 10th century B.C. and are often found on illustrations from that time.
Serving Size = 1 CUP
Selection: Choose fruit with firm, fuzzy skins that yield to gentle pressure when ripe. Avoid fruit with blemishes.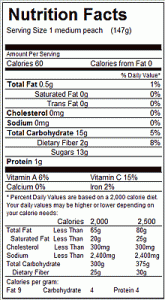 Storage: Store unripe peaches in paper bag. When ripe, store at room temperature for use within 1-2 days.
Nutrition Benefits: Low fat; saturated fat free; sodium free; cholesterol free; good source of vitamin C.
Pigments: Beta Carotene, Lycopene
Phytochemicals: Beta Cryptoxanthin, Lutein and Zeaxanthin
ORAC Score: 170