Description: A sweet, aromatic root that looks like a carrot, only it is a tan color with white flesh. There are varying shapes: bulbous types are stocky with rounded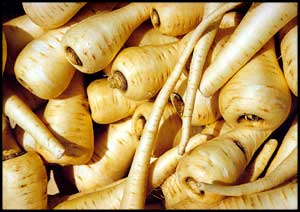 shoulders; wedge types are broad and long; and bayonet types are long and narrow.
Availability: November – March
Facts: In medieval Europe, sugar was rare and honey expensive so the juices of the sweet parsnip were evaporated, and the brown residue was used to sweeten foods. They were used as a sweetener until the development of the sugar beet in the 19th century.
Serving Size = ½ cup
Selection: Choose firm specimens. Freshness is more important than size. Older parsnips get fibrous.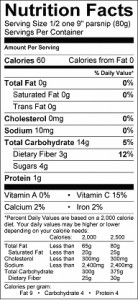 Storage: Store in a cool dry place
Nutrition Benefits: Good source of fiber, folate, magnesium, potassium, Vitamins C and E, calcium, iron, thiamin, riboflavin, niacin, and B6.