If you like maps, being outdoors, hiking and races you are going to love orienteering. You can think of orienteering as a large well organized scavenger hunt outdoors. Instead of hunting for items, you are hunting for checkpoints. You use a map and a compass to locate a series of checkpoints shown on a specialized topographic map. You are responsible for choosing routes–on or off trail–that will help you find all the points and get to the finish in the shortest amount of time.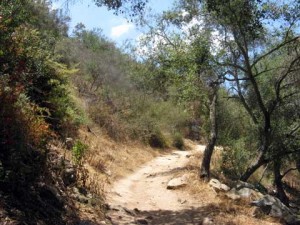 Route choice is what makes orienteering a thinking sport. You not only have to move faster than other participants, you must out-think them as well.
Orienteering is a sport for the whole family as well as a "family of sports". There are orienteering events on foot, bike, skis, snowshoes, horseback and canoe. There are long distance, night time and rough terrain events, solo and team competitions; in short, something for everyone. Most events provide courses for all levels, from beginner to advanced in experience.
An added bonus is locations selected for orienteering are chosen for their beauty.
Why It's Good for You
It's an active sport
It gets you outside
It fun
The Boy Scouts have an orienteering merit badge so they have developed a work sheet that takes scouts through all the things they need to know about orienteering. It's a great way to test your skills. Boy Scout Orienteering Work Sheet.
Geo-caching
Or you can  try geo-caching which is a high tech version of orienteering, where participants use a Global Positioning System (GPS) receiver or mobile device and other navigational techniques to hide and seek containers, called geo-caches or caches, anywhere in the world.
A typical cache is a small waterproof container containing a logbook where the geocacher enters the date they found it and signs it with their established code name. Larger plastic storage containers can also contain items for trading, usually toys or trinkets of little value.
For more information on geo-caching.