Description: Lemons are, well, lemon shaped – bright rich yellow with a textured skin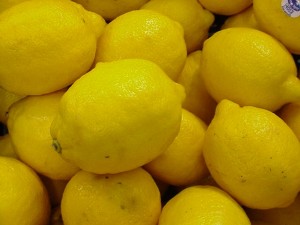 Availability: Year-round
Facts: Although lemon is primarily used as a flavor for cooking, it also makes a refreshing drink and has other uses in decorating and cleaning.
Serving Size = 1/2 CUP
Selection: Choose lemons with firm, thin, smooth skin, heavy for size.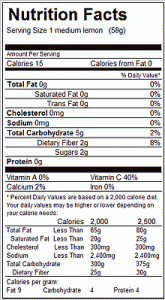 Storage: Refrigerate up to 2 weeks.
Nutrition Benefits: Fat free; saturated fat free; sodium free; cholesterol free; low calorie; high in vitamin C.