Description: Resembles a very tiny orange though shaped like a grape Kumquats have a very distinctive taste. It is the only citrus fruit that can be eaten "skin and all."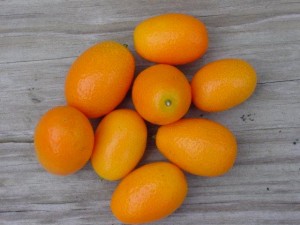 Facts: You eat the entire fruit, skin and all, like a grape. The skin is sweet while the flesh is quite tart. Small seeds may be swallowed or spit out. They are native to China and were cultivated in Japan as early as 1712. They can be eaten raw, pickled, or candied.
Availability: November to March
Serving Size: 7 fruits
Selection: Select kumquats with golden-yellow to reddish-orange skin. Avoid citrus with signs of decay. Choose fruits that are firm, not soft.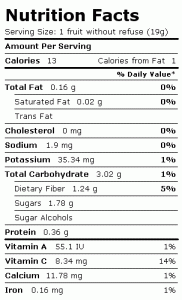 Storage: Store at room temperature for a few days or up to 2 weeks in the refrigerator.
Nutrition Benefits: Low fat, saturated fat free, cholesterol free, very low sodium, excellent source of vitamin C and fiber.
Pigments: beta-cryptoxanthin, zeazanthin, leutin
Phytochemicals: hespertin, limonin, nomilin, phytoene, phytofluene, dlimonene, beta-sitosterol, glutathione
ORAC Score: 600