By Dawn M. Swidorski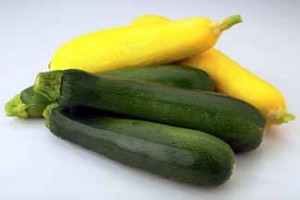 Summer squash is a member of the Cucurbitaceae family and is related to the melon and the cucumber. Squash was one of the earliest vegetables cultivated in the Western Hemisphere. Archeological evidence shows squash was cultivated as early as 5500 BC – 7000 BC. Combined with beans and corn squash provided a complete protein that was critical to the diet.
Summer squash comes in a variety of colors and shapes and types but all summer squash has one characteristic in common: the entire vegetable, including its flesh, seeds and skin, is edible. In addition, some varieties of the squash plant produce edible flowers. Because of its delicate skin it is more fragile and cannot be stored for long periods of time.
One important thing to remember about summer squash is smaller is better! Straight neck, crook neck, zucchini and cocozelle should all be no more than 6 – 8 inches long and scallop shaped squash no more than 3 – 4 inches in diameter. The larger a squash, the more tough and fibrous it becomes.
Types of Summer Squash
Summer squash comes in 4 basic types:
Straight Neck. Yellow fruit that is bottle shaped with a straight neck.
Crook Neck. Yellow fruit that is round with a tapering curved neck and bumpy skin. Use in soups, stews, baked or steamed.
Scallop. Disk shaped and ridged around the edge. They come in yellow, white, green or striped. Patty pan is the most familiar variety of this squash. It has a nutty flavor and is perfect for stuffing with cheese, veggies or meats.
Zucchini and Cocozelle. A type called a "marrow" introduced from Italy. Shaped like a cucumber and available in green and yellow. The Zucchini are the most popular and familiar summer squash.
Summer squash has a mild taste that is a little sweet or nutty depending on the variety. Because of its mild taste it can be paired well with other stronger ingredients without interfering.
Summer squash is incredibly versatile. It can be grilled, sautéed, fried (not good for you but still tasty), whipped, baked, stuffed, turned into soup, included in a frittata, or used in baking. Even the squash blossoms are edible raw or cooked, though the male flower is better than the female flower.
If you've ever grown summer squash you know that's versatility is a good thing because squash is a prolific grower so even one or two plants can fulfill a family's need for the season.
Here's a wonderful recipe that uses LOTS of squash: Spicy Squash Cakes