By Dawn M. Swidorski
On first glance Jicama (Heh-kah-ma) is a rather unimpressive specimen. It has a thin brown skin and sort of resembles a turnip in shape with a crisp white flesh. If you ask anyone about it they will always compare it to something else: e.g. a cross between a water chestnut and a pear, or a cross between an apple and a potato. Regardless of its appearance or taste and texture comparisons, jicama is sweet, crunchy and highly versatile.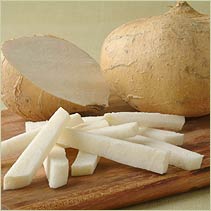 Jicama is native to Central and South America and has been cultivated there for centuries. Sometimes referred to as a yam bean, Mexican turnip, or Mexican potato it is a member of the morning glory family and a cousin of the sweet potato.
When you taste jicama for the first time you are tempted to categorize it as a fruit because it is deliciously sweet and crunchy, but it actually grows on a vine and the jicama is its tuberous root.
The vine can grow up to 20 feet in length. The vines hug the ground, terminating in tubers that may grow up to 50 pounds, although jicama over 3 – 4 pounds tend to be too fibrous and woody to be tasty. The root is the only edible portion of the plant because its leaves and seeds contain a mild toxin.
You can find jicama year-round in the produce section of many supermarkets and Latin American markets. Select firm, dry jicama roots. Skin should not appear shriveled, bruised, or blemished. Store them unpeeled in a plastic bag in your refrigerator for up to two weeks.
Jicama is a very versatile vegetable that is a good source of potassium and vitamin C, is low in sodium, high in fiber and has no fat. One serving (one cup) contains only 45 calories.
Regardless of the preparation, remove the skin then cut the flesh into cubes or strips, according to your recipe.
Jicama can be eaten raw or cooked. It can be sliced and diced in a variety of ways too which makes it a great carrier for dips. As an added bonus, jicama does not turn brown or become soggy after cutting, so it makes a nice addition to a crudités platter or salads. Added to sushi rolls jicama can take the place of a cucumber for crunch.
It's naturally crunchy nature makes it perfect for quick cooking techniques such as stir-frying or sauteéing with other vegetables such as carrots or green beans. But, Jicama can also be steamed, baked, boiled, mashed or fried and appears in stews, drinks, stuffing's, and many other recipes. In addition to having a unique flavor and texture, jicama takes flavor well, making it well suited to culinary experimentation.
In Central America, jicama is often sold by street vendors seasoned with lemon or lime juice and chili powder and eaten raw.
Other ways to enjoy jicama
Jicama tastes great with black beans. For a perfect blend, use any basic bean salad recipe and add about 1 cup diced jicama to the ingredients.
Jicama salad. Mix together fresh diced jicama, apple and 1/2 cup chopped pecans or walnuts in a small bowl. In another bowl mix together: 1/4 cup sour cream, 1/4 cup mayonnaise, 1 teaspoon fresh and grated lime peel, 2 teaspoon lime juice, 2 1/2 tablespoons honey, 1/2 teaspoon salt and 1/8 teaspoon pepper. Thoroughly blend the dressing into the jicama mixture and chill before serving.
Quick stir-fry. 1 julienned jicama, 1 clove of garlic, ½ julienned red, yellow or orange bell peppers with 1-2 teaspoons olive oil season with 1/8 teaspoon paprika, 1/8 teaspoon salt and 1/8 teaspoon pepper.