By Dawn M. Swidorski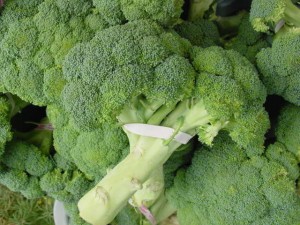 I must admit that when my mother first presented broccoli to me when I was a child I was a bit dubious. But she won me over by convincing me that I could be like the Jolly Green Giant and eat little trees.
Broccoli is a member of the Cabbage family, Brassicaceae and is actually a cultivar of wild cabbage. Wild cabbage originated along the northern and western coasts of the Mediterranean, where it was domesticated thousands of years ago. That domesticated cabbage was eventually bred into other varieties, including broccoli, cauliflower, cabbage, kale, kohlrabi, and brussels sprouts.
Even though broccoli made it to the US by the late 18th century; Thomas Jefferson even grew some at Monticello, it didn't become popular until Italian immigrants on the West Coast of the US started growing it in the early 1900's.
Broccoli is usually green in color, though there is also a purple variety. It has fleshy flower heads, arranged in a tree-like fashion on branches sprouting from a thick, edible stalk. The large mass of flower heads is surrounded by leaves.
The United States is the world's largest producer of broccoli. California, Arizona, Texas, and Oregon are the leading broccoli-producing states in the US where most of it is harvested and sold as fresh produce. Broccoli is also grown on a large scale in Italy, northern Europe, and the Far East.
Broccoli is a cool season crop so it is available in early spring and also in the fall so its one of the earliest fresh vegetables in the spring and one of the latest in the fall – In fact, in California fresh broccoli is available at Farmer's markets from October through May as much of the broccoli crop is grown in the cool and sometimes foggy coastal areas.
Broccoli can be eaten raw or cooked. People are sometimes put off by the sulfurous smell of cooking broccoli. If you smell it, that it means that you have OVERCOOKED it!
In fact the best way to eat broccoli is steamed for 5 minutes. Anything over 7 minutes and the color changes to a drab and unappetizing olive green.
Broccoli is also high in vitamins A and C and rich in fiber.