By Dawn M. Swidorski
Blueberries are one of three native fruits to North America. (Can you guess the other two? See answer below). They grow wild throughout the woods and mountainous regions in the United States and Canada. This fruit is rarely found growing in Europe and is called a bilberry there and has only been recently introduced in Australia.
Blueberries are the fruit of a shrub that belongs to the heath family, which also includes the cranberry, azalea and rhododendron (which are well known for their perfusion of pink blossoms). In the US they still grow wild in abundance especially in the Northeastern part of the country.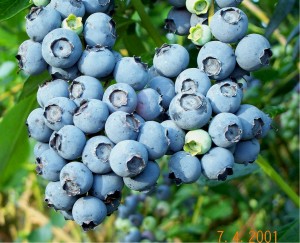 Botanists estimate that blueberries have been around for more than 13,000 years. Native American cultures believed that blueberries were given to them by the Great Spirit to preserve them in times of scarcity and called them Star Berries. They used blueberries for soups and stews, a honey pudding, brewed teas for medicinal purposes and used them for pemmican which could be kept for as long as two years. Native Americans gave blueberries to the first European settlers, helping them make it through their first winter.
Blueberries weren't actually cultivated until the early 1900's, when Elizabeth White of New Jersey was looking for another crop to supplement the family's farm income. She hired a crew to find wild bushes with the largest fruit and then worked with the New Jersey Department of Agriculture to develop cultivated versions of the plants. It's not surprising that the blueberry is the official state fruit of New Jersey.
Blueberries bushes can grow as tall as 12 feet, but most are around 6 feet tall. Clusters of white blossoms appear all over the bushes in the spring. For each blossom pollinated by a bee a fruit grows. The blueberry ranges in size from that of a small pea to a marble. They begin hard and green and then deepen in color from blue to maroon to purple-black, and feature a dusty looking white coating that covers the surface. The skin surrounds a semi-transparent flesh that encases tiny seeds. A single bush can produce as many as 6,000 blueberries a year.
The flavor of the berry ranges from mildly sweet to tart and tangy with wild blueberries being the most tart. That may be one of the reasons that weren't consumed in great amounts until the mid-19th century when sugar became more widely available as a sweetener.
One thing is certain blueberries are nutritional stars. In addition to having good daily values of Vitamin C they are also bursting with antioxidants and flavor while being very low in calories. In fact, since blueberries were awarded the honor of "Fruit of the Year" in 1998 by Eating Well magazine many nutritionists have come so sing their praise.
The antioxidants found in blueberries are being studied furiously by scientists who have discovered that blueberries might aid humans in growing new neurons and allowing our brain cells to communicate more effectively with each other.
Blueberries do have one of the highest ORAC scores of all fruits and vegetables and identified so far. (ORAC refers to the amount of free radicals a food can absorb). But the antioxidants in blueberries are sensitive to heat so to get the full value of the food its best to eat them raw which is okay because they are wonderful in a fruit salad and tasty in a smoothie.
Blueberries are at their best from May through October when they are in season and because they are pretty delicate they can be expensive at the grocery store. Blueberries are best purchased at the local farmer's market or you can always pick your own.
To pick your own I've included a handy link but after you select your state be sure to scroll to the bottom of the page to find the locations. This also includes links for other pick your own produce such as cherries, apples, peaches, and pumpkins. It's a great way to spend the day with the family and to introduce children to farms and gardens.
Alas, blueberry season is all too short. But you can always keep a bag of frozen blueberries in the freezer which are great for baking, pancakes, waffles and smoothies.
Answer to quiz: Concord Grapes and Cranberries