By Dawn M. Swidorski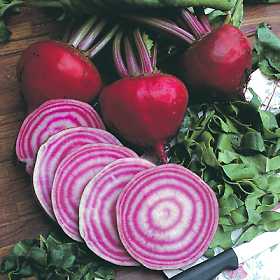 To be perfectly honest, my motto has always been: "I'd rather eat dirt, than eat a beet!" Maybe it was because of my Polish background – beets were always served pickled from a jar or as borscht. Blech! No matter how I looked at it they were unappealing.
But, I write a column on the joys of fruits and vegetables. I'm supposed to be open to new taste experiences, especially for those foods that are good for me. So just like my foray with Brussels sprouts a few years ago, I picked up some beets last Saturday at the local farmers market. Although beets will still not be my first vegetable choice, I'm happy to report they will have a place at my table in the future. They should have a place at your table too.
The beet is a plant in the Amaranthaceae family. In addition to the best known cultivated variety, known as the beetroot or garden beet, there are other varieties including chard, spinach beet and the sugar beet, which is important in the production of table sugar, and mangelwurzel, which is used for animal fodder.
Beets are native to the Mediterranean but have been cultivated since the second millennium BC.
Initially, people exclusively ate the beet greens and not the roots. The ancient Romans were one of the first civilizations to cultivate beets to use their roots as food. They were introduced to the Middle East, India, and finally China by 850 AD. The tribes that invaded Rome were responsible for spreading beets throughout northern Europe where they were first used for animal fodder and later for human consumption, becoming more popular in the 16th century.
The beet became commercially important in 19th century Europe following the development of the sugar beet in Germany and discovery that sucrose could be extracted from them, providing an alternative to tropical sugar cane. During the Napoleonic War (1803 – 1814) the British restricted French access to sugar cane. Napoleon decreed that the beet be used as the primary source of sugar, boosting its popularity as a food crop. Around this time, beets were also first brought to the United States. Beets remain a widely cultivated commercial crop for producing table sugar.
Beets are an herbaceous biennial with heart-shaped leaves. All cultivated varieties of the beet are grown for their taproots, leaves, or swollen midribs. Attached to the beet's green leaves is a round or oblong root, which most people refer to as the beet. Most beets are a reddish-purple hue, though they also come in varieties that feature white, golden/yellow or even rainbow color roots.
Spinach beet. This variety is widely cultivated for its leaves, which are usually cooked like spinach or used as a pot herb. It can be found in many grocery stores around the world.
Chard. Chard is grown for its leaves, which have thick and fleshy midribs that are used as a vegetable. Some cultivars are grown for their colored midribs. The thickened midribs are thought to have arisen from the spinach beet by mutation.
Tuberous beets. This grouping contains all beets grown for their thickened tubers rather than their leaves.
Mangelwurzel. This variety was developed in the 18th century for its tubers for use as a fodder crop.
Sugar beet. The sugar beet is a major commercial crop due to its high concentrations of sucrose, which is extracted to produce table sugar.
Garden beet. This is the red root vegetable that is most typically associated with the word 'beet'. It is especially popular in Eastern Europe where it is the main ingredient of borscht.
Beets are fat and cholesterol free, a good source of vitamins B and C and a very good source of calcium, copper, iron, manganese, magnesium, potassium and phosphorous. Beets also contain a combination of phytonutrients including betalain pigments which are unique, to beets. Both betacyanins (red-violet pigments), betaxanthins (yellow pigments), lutein and zeaxanthin can be found in beets.
Unlike some other food pigments, betalains are lost from food as cooking time is increased. So, keep beet steaming times to 15 minutes or less, and roasting times under an hour.
The garden beet is traditionally eaten boiled or steamed then eaten warm with butter; cooked, pickled, and then eaten cold as a condiment; or peeled, shredded raw, and eaten as a salad.
A large proportion of the commercial production is processed and canned or pickled. Beet juice is often used in frozen novelties and fruit fillings. It is also used to intensify the color of tomato paste, sauces, desserts, jams and jellies, ice cream, sweets and breakfast cereals.
How to Select
Beets aren't as hardy as they look! The smallest bruise or puncture will cause the pigments to bleed, especially during cooking. Betalain pigments in beets are highly-water soluble and temperature sensitive so it is important to treat beets as a delicate food, even though they might seem hard as a rock.
Choose small or medium-sized beets whose roots are firm, smooth-skinned and deep in color. Smaller, younger beets may be so tender that peeling won't be needed after they are cooked.
Avoid beets that have spots, bruises or soft, wet areas, all of which indicate spoilage. Shriveled or flabby should also be avoided as these are signs that the roots are aged, tough and fibrous.
While the quality of the greens does not reflect that of the roots, if you are going to consume this part of the plant, look for greens that appear fresh, tender, and have a lively green color.
How to Store
Cut the majority of the greens and their stems from the beet roots, so they do not pull away moisture away from the root. Leave about two inches of the stem attached to prevent the roots from bleeding. Do not wash beets before storing. Place in a plastic bag and wrap the bag tightly around the beets, squeezing out as much of the air from the bag as possible, and place in refrigerator where they will keep for up to 3 weeks.
Store the unwashed greens in a separate plastic bag squeezing out as much of the air as possible. Place in refrigerator where they will keep fresh for about four days.
Do not freeze raw beets since they become mushy upon thawing. Freezing cooked beets is fine; they'll retain their flavor and texture.
Tips for Preparing Beets
Rinse gently under cold running water, taking care not to tear the skin, which helps keep the health-promoting pigments inside.
Beet juice can stain your skin, so wear kitchen gloves when handling beets or you'll end up with purple skin! If your hands become stained during the cleaning and cooking process, simply rub some lemon juice on them to remove the stain.
Lemon juice or vinegar will brighten the color of beets while an alkaline substance such as baking soda will cause them to turn a deeper purple. Salt will leach the color, so add only at the end of cooking if needed.
A Few Quick Serving Ideas
Grate raw beets for a colorful addition to salads or decorative garnish for soups.
Steam beet greens for 1 minute for a great tasting side dish, which is very similar to Swiss chard.
Marinate steamed beets in fresh lemon juice, extra virgin olive oil, and fresh herbs.
Now for my favorite! Cut beets into small 1 inch cubes, toss with olive oil and roast in a 400 degree oven until fork tender. This brings out the natural sweetness of the beet and it doesn't taste like dirt!