By Dawn M. Swidorski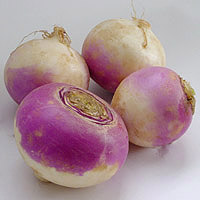 Turnips are root vegetables commonly grown in temperate climates worldwide for its white, bulbous taproot. Small, tender varieties are grown for human consumption and used in a variety of cuisines across Europe, Asia, and Eastern American regions.
Meatball Shop chef, Daniel Holzman says turnips are one of the most "under appreciated and often overlooked" vegetables at the market. "They are super-delicious, really inexpensive and easy to cook," he said. "But for whatever reason, they are not part of our regular culinary quiver."
This fall and winter veggie is a member of the Brassicaceae family that also includes cabbage, kale, Brussels sprouts etc. The roots have been cultivated as staple food during ancient Greek and Roman periods. Though its exact origin is difficult to determine, there are wild forms of the turnip found over west Asia and Europe.
The most common type is mostly white-skinned except for the upper inch or two of the root, which protrudes above the ground and may be purple or red. The interior flesh is entirely white.
Turnip leaves are sometimes eaten as "turnip greens", and they resemble mustard greens in flavor. Turnip greens are a common side dish in southeastern US cooking, primarily during late fall and winter. Smaller leaves are preferred; however, any bitter taste of larger leaves can be reduced by pouring off the water from initial boiling and replacing it with fresh water.
There are varieties specifically grown for the leaves and resemble mustard greens more than those grown for the roots, with small or no storage roots.
Turnip roots can weigh up to about 2 pounds, although they can be harvested when smaller. Size is a function of variety and length of time the turnip has grown. Most very small turnips are specialty varieties. These are only available when freshly harvested and do not keep well. Most baby turnips can be eaten whole, including their leaves. Baby turnips come in yellow, orange, and red-fleshed varieties as well as white-fleshed. Their flavor is mild, so they can be eaten raw in salads like radishes and other vegetables.
Although this bulbous root that is widely eaten; it is its top fresh greens that are more nutritious; several times richer in vitamins, minerals, and anti-oxidants. Turnips are very low calorie and they are very good source of anti-oxidants, minerals, vitamins and dietary fiber.
The roots are rich in vitamin C. The greens are the storehouse of many more vital nutrients, than the roots. The greens are rich in vitamin A, vitamin C, carotenoids xanthins and lutein. The greens are also an excellent source of vitamin K and a very good source of B-complex group of vitamins such as folates, riboflavin, pyridoxine, pantothenic acid and thiamin and the minerals calcium, copper, iron and manganese.
How To Select a Turnip
Although available year-round, turnips are best during their peak season, which is October through March.
This root vegetable usually sold bunched and green tops removed though you can occasionally find them with the greens intact. Look for turnips with smooth skin and a sweet aroma. They should feel firm and heavy with crisp green tops.
Choose the smallest as those have the sweetest, most tender flavor. The smaller turnip can be eaten raw, such as when sliced and added to salads.
Many people enjoy eating the greens attached to the end. If you choose to eat the greens make sure they are fresh and non-wilted or slimy. But if you're choosing turnips for the root only, the condition of the greens doesn't matter.
How To Clean and Prep a Turnip
If you purchase turnips with greens attached, cut them off right away as it affects the nutritional value. Store greens separately in a bag with a damp paper towel and use within one or two days. Scrub the turnip bulb with a vegetable brush under running water.
To chop, begin by carefully cutting in half so you have a flat surface. Then place that flat surface on your cutting board and continue to chop, dice, etc. Turnips can be sliced, diced, chopped, or left whole depending on their size, and cooking technique you'll be choosing. They can also be grated to be used in salads or coleslaw.
Raw turnips will last up to 2 weeks in your refrigerator crisper.
Preparation and serving methods
If cooking turnips, cook only the amount you will consume, as leftover turnips do not keep well.
Young turnips are one of the favored items in raw salads for their sweet taste, complementing with cabbage, Parsnips, carrots, beets etc.
Turnips can be mashed and are especially delicious roasted with other root vegetables such as sweet potatoes, carrots, parsnips or beets.
Cubed, turnips pair well with other vegetables like kohlrabi, potato, carrots in variety of recipes.
Diced roots can be added to poultry, lamb, pork etc.
The greens can be prepared like other tender greens (spinach) or used in of soups and curries.
Turnip tip: Boiled turnips can sometimes get bitter so place a potato in the water and cook right alongside the turnip. The bitter flavor will disappear!
Mashed Turnips and Potatoes With Turnip Greens: This recipe is inspired by colcannon, an Irish mix of mashed potatoes and kale or cabbage.