Face it, most of the "winter" holidays have a focus on food. Whether it's the office holiday party, a skating or shopping session, Hanukkah or Christmas dinner or New Year's Eve, almost all of them are bound to be loaded with plenty of food to offer people with diabetes the big three on the emotional roller coaster: Jealousy, Temptation and Guilt.
Winter is tough for people with diabetes. A lack of sunlight means less vitamin D, which means our bodies are producing less serotonin. Why does that matter? Serotonin is the chemical which helps regulate our moods. Less serotonin means we're more likely to crave the dreaded pasta, which helps boost our serotonin levels.
Add to that mix, a lack of opportunities for outdoor exercise and the "winter holidays" from Thanksgiving to New Year's Day. And so, people with diabetes are facing a bumpy road filled with cookies, fudge, latkes, eggnog, roast beef and bouts on the couch watching football.
"It's almost historical tradition," says Leon Rappoport, PhD, professor emeritus of psychology at Kansas State University and author of How We Eat: Appetite, Culture, and the Psychology of Food. "There's always a pattern, whereby special foods are set aside for special occasions."
Jealousy
As one of the "seven deadly sins", jealousy, particularly when it comes to food, is one emotion people with diabetes should seek to master early after their diagnosis. But the holidays can certainly cause jealousy to rear its ugly head; for example, if you're eating another carrot and your co-workers are having their 4th cream puff and 3rd glass of champagne.
Life clearly isn't fair, or you wouldn't have diabetes. So, as tough as it is, you need to acknowledge those feelings of jealousy, or you will never have an opportunity to move past it. Controlling your jealousy and your eating will have a huge impact on your health in the long run.
"Jealousy is all the fun you think they had." – Erica Fromm
Temptation
Most holiday events, and even a trip to the shopping mall, will provide plenty of food temptation. Foods that you don't normally surround yourself with will be in abundance. You need to learn how to handle those potential temptations and keep your lifestyle and food plan on track.
Coming in from the cold
Time spent in the cold makes you think you are hungry, so the temptation to grab something carbohydrate-rich can be overwhelming.
Instead, don't completely strip out of your warm clothes, leave on a sweater or a scarf, or wrap up in a blanket.
Drink a cup of warm tea instead of hot chocolate, a coffee drink or spiced cider.
Avoid alcohol, it creates a false sense of warmth and adds extra calories and empty carbohydrates to your daily intake.
Drink plenty of water – cold often causes dehydration, which will make you feel cold. Drinking plenty of water will offset that feeling, keep your stomach a bit fuller and keep you properly hydrated.
At the shopping mall
The mall is veritable mine field of food temptations and none of them good for you. Before you head off for an extended shopping trip, be sure to eat your regular morning, afternoon or evening meal and stay fully hydrated.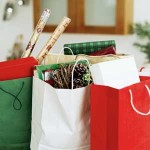 According to Kathleen Voss, Associate Professor of Marketing at University of Minnesota Carlton School of Management, "Having to make decisions reduces a person's willpower." After being inundated with gift giving decisions it can be easy to give in to the temptation of the food kiosk.
Carry an appropriate snack: a handful of nuts, dried fruit or whole wheat crackers with peanut butter. If it's in your bag, it will be much easier to pull it out and snack on it than waiting in line for that Cinnabon (which is over 1,000 calories of fat, sugar and carbohydrates).
Carry water in an eco-friendly container to help avoid the seasonal specialty drinks which are loaded with sugar.
Keep a piece of sugar free gum handy to quench those instant sweet cravings and help suppress appetite.
With all that walking and carrying of packages you will burn some calories, so check your glucose at mid-shopping trip to make sure you are on track.
At the Holiday Office Party
Although management sometimes likes to keep details of the holiday office party a surprise, try to find out details of the event. Is it a sit down dinner? Buffet? Cocktails and passed hors d'oeuvres? Each has their own special strategies for dealing with temptation.
Don't skip any regularly scheduled meals or snacks prior to the party. If you do you'll be "extra hungry". This is a recipe for overindulging on foods that are probably not on your regular meal plan. It is okay to plan on having a good time and enjoying the food, but don't set yourself up for guilt later.
Keep moving. Enjoy the company and camaraderie of co-workers and friends by moving around the room and socializing instead of being near the buffet table. This requires you making a conscious decision to go to the buffet table to eat and helps avoid mindless snacking.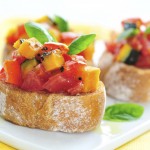 Look over your food options before making a selection. Whether it is a buffet table or passed hors d'ouevres, there are always healthier and more diabetic friendly choices available. To be sure you are making the right choices, you can always ask one of the wait staff what appetizers will be served, this way you won't miss out on what you really want to eat.
Portion control. You don't have to bypass foods that you truly enjoy, you just need to eat sensible amounts.
Choose your beverages wisely. Too much alcohol adds excess calories and impacts your glucose levels. Wine or light beer has between 80 – 120 calories and is your best choice, if alcohol is a must on your holiday list. Sparkling water with the addition of fruit slices is a festive and low calorie option, not just during the holidays, but anytime.
At the Holiday Dinner
Many of the strategies for avoiding temptation for the holiday party will also be effective for the holiday dinner.
Offer to bring a dish for dinner that you know is healthy, you like to eat and is on your meal plan.
If you've been waiting all year for the bacon wrapped shrimp, then be sure to have one or two, but not five. Use good sense and exercise the same kind of portion control you would anytime.
Use substitutions. If you really want those mashed potatoes, then bypass the dinner roll so you can fully enjoy your indulgence.
Put sauces and dressings on the side – this allows you to more adequately gauge the real portion size.
Start the meal with a large portion of salad.
Eat slowly and savor all of the foods you have on your plate. This is good advice all year long. Americans, in particular, tend to eat their meals too quickly. Since it takes about 20 minutes for your stomach and your brain to connect that you are full, it is easy to over eat. Eating slowly allows your body to tell you it's full before you overindulge.
Wait before you have dessert.
Guilt 
No matter how well you plan, or how carefully you try to deal with all the temptations of the holidays, you are likely to overindulge at least once.
The key is to realize it is okay to have a little slip up once in a while and not to beat yourself up over it. Angela Ginn-Meadow, RD, LDN, CDE, with Joslin Diabetes Center, Baltimore says to keep in mind, "That was then, and this is now. Things happen. We're human, don't feel guilty, and just get back on track."
You can do that by getting back on your meal plan as quickly as possible, checking your glucose levels frequently and getting a little physical activity to offset the indulgences.