You've been through many holidays in the past, but perhaps this is the first time as a person diagnosed with diabetes; maybe you are experiencing poor diabetes control or a complication of the disease. Diabetes changes everything about the holidays and nothing about the holidays.
The hustle and bustle of holidays can make us feel like we are swept up in a whirlwind. Holidays can also be a time of great joy or great stress, depending on how you manage your time and expectations. Here are some helpful holiday survival tips.
Stress
Stress definitely can wreak havoc on your diabetes control if you aren't careful. Fortunately, there are a number of actions you can take to minimize the stress of the holidays.
Plan Ahead
One of the good things about many holidays is they are at the same time each year. Certainly, the period between Thanksgiving and New Year's Day, is filled with enough activities to make your head spin. But, it's always the period between the 4th Thursday of November and the 1st of January every single year.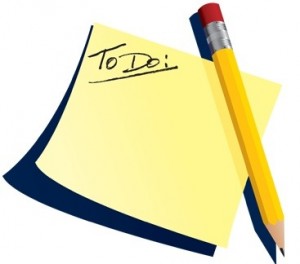 So, get a head start by making and keeping a To-Do-List. It's possible some of the tasks that you have on your To-Do-List could be shared by other family members. Having a To-Do List makes it easier to coordinate activities among family and friends because individuals can choose those tasks that suit their schedule or capabilities. There is also a huge sense of accomplishment checking things off your To-Do-List.
Shopping
Always keep a Gift-List handy in case you run across an item that would be perfect for that hard to buy for person, or difficult to please family member. Holiday gift shopping does not have to be confined to the period between Thanksgiving and Christmas. In fact, shopping immediately after Christmas can get you some really amazing deals and a huge jump start on the following year gift shopping.
Internet and catalogs allow you to shop in the convenience of your home whenever you happen to find the time. This can save hours of time waiting in traffic and congested stores. Most of these outlets will gift wrap and ship the gift to its final destination for free or minimal cost. Even if you are going to be visiting the gift recipient over the holidays, it reduces the amount of stuff you have to transport.
Here is a secret: if you happen to find a really great gift, it's okay to give it to more than one person, especially if they live far away from each other or run in different social circles.
Even many grocery stores have online ordering and delivery services. Using this method is another way to reduce the stress associated with crowds and traffic.
Be realistic about what you can do
In the past, you may have participated in the annual Christmas Carol Sing, volunteered for the local toy drive or food bank, gone all out decorating, or cooked dinner for a group of 20. But, this year, you may not feel as good or are stressed about undertaking some or all of those past activities. Don't put undue pressure on yourself. Don't feel obligated to maintain the same pace – learn to say "NO". Everyone in your extended group of friends and acquaintances might not know of your situation, so explain it briefly to them and they will understand. They might even want to find ways to help you, as part of the holiday giving spirit.
Don't be afraid to ask for help
If you need help, ask friends or family to help with tasks, such as cleaning before the holiday dinner, decorating or running a few errands. Instead of cooking the entire dinner for the family, ask attendees to bring a dish for the meal that day. Ask someone to coordinate the dishes that guests should bring for that day to insure a complete meal, and that the traditional family favorites are represented. Ask one or two individuals to stay a little later to help straighten up after the holiday event.
Preserve traditions when you can or create new ones if necessary
Every family has their own set of holiday traditions that help make up the fabric of our lives, provide richness and texture, continuity and generational memory. Some of the traditions may be elaborate and time consuming and some simple, yet meaningful. Talk to your loved ones about what traditions are the most important for the family to keep; it may be a special recipe that symbolizes the holidays, a family sing-a-long, special decorations, or invocation. Try to preserve those traditions that are important to you and your loved ones, or scale them back if necessary. But don't be afraid to create new traditions that capture the spirit of the old tradition and are possible and sustainable under the family's current situation.
Take time for yourself
Make sure that you take some time for yourself. Do you want to do a little window shopping? Watch the kid's ice skate at the local park? Look at holiday decorations or grab a cup of hot chocolate at your local café? If there is a holiday tradition you don't want to miss, like the local performance of The Nutcracker Ballet or A Christmas Carol, be sure to set the time aside to do it. Taking some time out for yourself allows you to refresh and re-energize. This is especially important at emotional times like the holiday season.
Your family travels for the holidays
Many families incorporate travel as part of their holiday tradition. Maybe you regularly rent a house in Vermont, visit Aunt Mary in Ohio, or go skiing in Lake Tahoe; make sure that you feel up for the excursion. Before finalizing your plans make a realistic determination with other family members and doctors if necessary, that you are physically capable of handling the actual travel to and from the destination. Also, be certain that you have the resources and support on the other end to meet your needs.
Transportation issues
If you are traveling by air and you can afford the time, try and avoid peak flying days and times, by departing and returning a day or two on either side of the busiest travel. Be prepared to cancel plans if weather events look like you may be stuck in transit for long periods of time. Travel insurance is an acceptable expense to avoid losing out on costly tickets. If you are traveling by car be sure to plan for extra time on the road so that you can include the appropriate number of rest breaks.
It's still important that you don't overdo it. Be realistic about what activities the family can participate in. The actual travel alone may have tapped your resources, so be sure to schedule some quiet time, too.
Here are some other travel tips
Emotional Cost of the Holidays
It's important to have realistic expectations and not aim for perfection, something that you might not be able to achieve.
These can be very important times for the family, quiet times for reflection and remembrance, for sharing feelings and finding peace. It is important to give thanks for those things that you do have.
Finally, unexpected things might happen that force you to modify, or even cancel, some or all of your plans. Make the best of the situation and take joy from the little things.