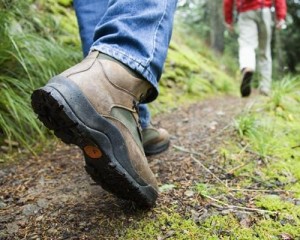 Hiking is an outdoor activity which consists of walking over natural terrain in mountainous or other scenic areas. If the trail is paved, it's a walk not a hike!
In the United States, hiking refers to walking outdoors on a trail for recreational purposes. A day hike refers to a hike that can be completed in a single day – not requiring an overnight camp. Multi-day hikes with camping are referred to as backpacking.
Hiking is easy. Anyone can put on a pair of shoes and start moving into the woods for a little fresh air. The scenery and variety of hiking trails make this heart-healthy pastime attractive for people of all ages, fitness levels and income brackets.
Everyone can find trails to suit their physical strengths. And unlike other activities or sports, it is a pursuit that allows people to determine their own limitations.
Hiking is a relatively inexpensive sport, especially if you are going for a one day hike. All you require is a good pair of shoes, a good map and some water.
Hiking is something that can be done alone or with a friend or family.
Why it's Good for You
Lose Weight
Improves Heart Health
Strengthens Bones
Increases stamina
Relaxing
How to Get Started
Beginning hikers should stick to short, easy hikes that can be managed with little prior planning. Many trail guides rate the level of difficulty in terms of elevation gain, length and also highlight scenic features. There are tons of resources to find hikes in your area.
Trail Link offers a free online trail guide for biking trails, walking trails and other outdoor activities. Find trail maps, photos and reviews.
Local Hikes provides information on local hiking opportunities near both large and small metropolitan areas in the United States.
Hiking is fun and gets you outdoors to places a car can never take you!