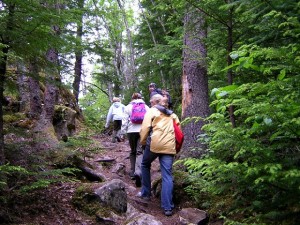 I took up hiking in my late teens. My first hiking experience was with my (eventual) husband down a waterfall trail in the Shenandoah Mountains in Virginia. It was a truly magical experience. Since then, I've spent a lot of time hiking most of America's many mountain ranges, waterfalls, canyons, deserts and portions of many of the MAJOR trails e.g. Appalachian Trail, John Muir, Pacific Crest, Continental Divide. It's a great way to slow down and see all the diversity nature has to offer and it's good for you too!One thing is certain, hiking is not walking, though walking, is a big part of hiking. Hiking is an outdoor activity which consists of walking over natural terrain in mountainous or other scenic areas. If the trail is paved, it's a walk not a hike.
In the United States, hiking refers to walking outdoors on a trail for recreational purposes. A day hike refers to a hike that can be completed in a single day – not requiring an overnight camp. Multi-day hikes with camping are referred to as backpacking.
The health benefits of different types of hiking have been confirmed in studies:
Weight Loss. Hiking is a great low impact way to lose weight. Hiking can burn between 300 to 500 calories per hour depending on whether you are walking on a flat trail, or in more challenging terrain with hills.
Controlling Diabetes. Hiking can reduce the amount of insulin a diabetic requires. It can also protect the body from the degenerative effects of diabetes.
Decreases risk of Cardio Vascular Disease. Hiking is an aerobic exercise and offers important cardiovascular benefits. The movement while hiking help to expand the arteries which reduce the blood pressure and takes some of the stress off of the heart. It also increases the HDL (good cholesterol) which helps get rid of LDL (the bad cholesterol). Reduction in the blood pressure in people, who suffer from hypertension, is one of the important benefits of hiking.
Strengthen Bones. Hiking helps increase bone density and strength, and slows the rate of calcium loss, decreasing their susceptibility to break. This helps prevent bone diseases such as osteoporosis and arthritis.
Increases stamina. Aerobic exercises like hiking helps increase your stamina. Hiking also builds flexibility and strength. Walking uphill firms the calves and buttocks and downhill trips tone the quadriceps.
Break from the routine. Walking on a treadmill or even your neighborhood can get boring. Hiking provides a much needed break from the boredom of the gym and can help get you more enthusiastic about exercise.
Stress Buster. – Hiking is a relaxing way to get away from the hustle and bustle of everyday life. You can explore natural settings that can only be reached on foot. The psychological effects of spending time in natural surroundings are positive. After hiking, you are sure to have obtained a new point of view and feel revitalized.
Other Health Benefits. The immune system improves due to the fresh air that we breathe and this helps in reducing other problems like flu, cold and sinus. People with persistent back pain can also find relief from hiking.
As with all new physical activity it is recommended that people should consult their doctor before starting a new routine.
Other Benefits of Hiking 
Hiking isn't a difficult sport. This form of exercise can be taken up by anyone at any age. Literally, anyone can put on a pair of shoes and start moving into the woods for a little fresh air. The scenery, accessibility and diverse nature of hiking trails make this heart-healthy pastime attractive for people of all ages, fitness levels and income brackets.
Everyone can find trails to suit their physical strengths. And unlike other activities or sports, it is a pursuit that allows people to determine their own limitations. Initially, select trails with flatter terrain.
Hiking is a relatively inexpensive sport, especially if you are going for a one day hike. All you require is a good pair of shoes, a good map, your diabetes supplies, and some water.
Hiking is something that can be done alone or with a friend, family or even small children. It is a wonderful way to not only meet others but also to make a few good connections. One day hiking trips are a great way for beginner hikers to experience trails and exercise at the same time.
How to Get Started
Beginning hikers should stick to short, easy hikes that can be managed with little prior planning. Many trail guides rate the level of difficulty in terms of elevation gain, length and also highlight scenic features. There are tons of resources to find hikes in your area (see below).
Water, Food and Diabetes Supplies
When engaging in any physical activity, it is always important to stay properly hydrated. Even beginning hikers on easy trails should bring water along and drink it at regular intervals. For hikers, hydration is particularly important. Hiking is an outdoor sport and hikers can be exposed to sun and wind that can dehydrate the body. Hiking is about endurance, and drinking lots of water will help you build endurance and tackle more challenging trails without becoming exhausted.
If you are diabetic, always test your glucose levels before you head out on a hike. ALWAYS be sure to take your testing supplies, medication you might need and something to treat low blood sugar. You may be miles away from help and need to address any lows you have on the trail. Test while on the trail, particularly if it is a long or strenuous hike.
On longer hikes, food is just as important as water. Hikes of two hours or less may be accomplished without food, as long as you eat a good meal an hour or so before the hike. If you plan to be out longer than that, be sure to bring plenty of snacks so you can refuel and keep going without experiencing fatigue. The best foods to bring are those that have a good balance of carbohydrates and protein and can be digested quickly and easily like a simple trail mix of peanuts and raisins.
Navigation
Although GPS location systems can be handy to have on the trail I prefer a trail or topographic map. Although many popular hiking spots have trail maps posted on signs at the trail head head often throughout the trail system, a trail map is still be useful.
All trail marking systems are not created equal and beginning hikers could get off track creating potential anxiety or panic. Or, if someone in your group, is tiring more quickly or been injured, you may need to cut the hike short. With a trail map, you'll be able to assess the situation and determine whether there's a more appropriate route for the new circumstances. Advancing your hiking skills means learning how to be flexible and adjust your plan as the situation requires. On the other hand, if everyone is feeling at their best, you might consider adding another mile or two, taking a scenic loop you hadn't planned on taking, or otherwise altering course. The trail map will also help guide your way.
What to Bring Along
Aside from water, food, and if you are a diabetic, your testing supplies there are optional items to bring along. Some of the options depend on what other activities you are going to do on the trail. Some hikers never set off without binoculars, camera, pocket knife, or rain poncho. Sunscreen, bug spray, a hat and bandana are always on my list. Others might take along a towel or swim trunks if the final destination is a lake, river or waterfall. A whistle can also be a good idea in case you run into trouble and are unable to use a cell phone to call for help. But remember: pack light!
Having too many "just in case" items can weigh you down and make for an unpleasant hiking experience in the end. After all, hiking is a wonderful activity and should always be done in fun and safety.
Gear and Clothing
Technology has really changed the weight and durability of all hiking and backpacking gear. If you get serious about hiking the most important item to invest in is a good pair of hiking boots or shoes. They come in various types, from mid-calf boots that that offer a greater amount of support for more rigorous hiking, including backpacking, to boots that resemble running shoes with added traction. If you're planning on doing more strenuous hikes, or hiking over rocky areas, footwear with good ankle support is best. No matter where you are walking, comfort in your shoe choice is a key to enjoyment. Improper footwear can hurt your feet, and make hiking less pleasurable.
If your hike in the woods will be longer than a few hours, taking a backpack to carry extras is a good move. The backpack should be large enough to hold everything you want and the material strong enough to resist getting snagged or torn on branches and brambles.
Any water bottle will do, but if you want to really get into things, there are a variety of metal water bottles that are all BPA free, as well as specialty receptacles that are made for running and hiking and that have tubes and valves for easy access to water without having to open your pack.
Consider the terrain and weather when determining proper clothing. In cold weather or in extreme heat, avoid cotton if possible. Cotton tends to soak up sweat and takes a long time to dry. Wool and synthetic materials, on the other hand, tend to wick moisture away from the body and dry more quickly. In the warmer months, this is merely a matter of comfort, but for cold-weather hikes having cold; wet clothing on your body can be dangerous.
For warmer weather hiking, light, non-cotton socks will keep your feet dry and free of sweat. When it's cold out, wool socks are still the old standby and they work quite well. Just make sure that your feet do not fit to snugly in the boots after putting the socks on, as a bit of room in the boot is necessary to keep your feet warm or cool.
If you're hiking in or near an area where hunting is permitted, make sure to wear clearly visible clothing. There are various hats and vests that are made in so-called "safety orange" that will allow hunters to easily distinguish you from their prey, an important point when entering the woods during prime hunting seasons.
Always be on the alert for wildlife. Potentially dangerous wildlife including snakes, scorpions, bears, coyotes or even mountain lions could share the area you are hiking. Be alert for any warnings about animals posted at trail heads.
Hiking Etiquette
Hiking should be a pleasant experience. Sometimes hikers can interfere with each others' enjoyment, or that of other users of the land. Hiking etiquette has developed to minimize such interference. For example:
When two groups of hikers meet on a steep trail the group moving uphill has the right-of-way.
Being forced to hike much faster or slower than one's natural pace can be annoying, and difficult to maintain consistently. More seriously, walking unnaturally fast dramatically increases fatigue and exhaustion, and may cause an injury. If a group splits between fast and slow hikers, the slow hikers may be left behind or become lost. A common custom is to encourage the slowest hiker to hike in the lead and have everyone match that speed. Another custom is to have experienced hiker(s) sweep up the rear on a rotation, to ensure that everyone in the group is safe and nobody straggles.
Hikers generally enjoy the peace of their natural surroundings. Loud sounds such as shouting or loud conversation, or the use of mobile phones, disrupt this enjoyment.
Backpacking
If you get bit by the hiking bug and you want to extend your outdoor experience you might consider backpacking. Backpacking is an entirely different experience from hiking and much more strenuous because you are carrying everything you need for an overnight or multi-day trip.
Before undertaking a backpacking trip you need to be sure you are fully prepared! There are lots of considerations including sleeping and cooking gear, water filtration systems, waste management and dealing with wild animals. Be sure to read plenty of books, talk to other backpackers and gather information before taking this step. It's also a lot more expensive because lightweight gear suitable for backpacking comes with a high ticket.
Trail Resources
American Trails has an exhaustive list of trail resources organized by state with tons of additional links.
Trail Link offers a free online trail guide for biking trails, walking trails and other outdoor activities. Find trail maps, photos, reviews, driving directions, hotels, campgrounds and more.
At Trails.com you will find everything from easy day hikes to moderately strenuous hikes and extended overnight backpacking trips.
Traildino – is a database of trails from all over the world.
Local Hikes provides information on local hiking opportunities near both large and small metropolitan areas in the United States. You can find the perfect trail by selecting your metro area below to browse the available hikes, or by using the search feature to find the trails closest to your home or office.
Gorp also provides trail guides and tons of practical information about hiking, backpacking and enjoying the outdoors.
Other Outdoor Resources for Hiking and Backpacking
Parks and Forests
National Park Service – Our national parks have so many things to do: historical exhibits, art, photography, geology, wildlife, walking, hiking, backpacking, paddle sports, camping and more.
Rivers
Rivers are magical places and are the artery of our country. Rivers are a perfect way to decompress and spend some quality time with family and friends.
National Wild and Scenic Rivers
Wetlands and Wild Life Refuges
Wetlands and wild life refuges are great places to watch wildlife of all types.
U.S. Fish and Wild life Service
Backpacking Information
Backpacking Resources
Source
Dawn M. Swidorski