Description: Guava is a tropical fruit that is like the shape of pear. There are well over 100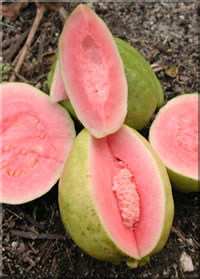 varieties of guavas with skins of yellow, red or purple, and flesh that is yellow, pink or red.
Facts: The guava is common throughout all warm areas of tropical America and in the West Indies (since 1526), the Bahamas, Bermuda and southern Florida where it was introduced in 1847. The entire fruit is edible including the seeds. They make delicious drinks and jelly.
Availability: Generally available year round
Serving Size: ½ cup or 1 small fruit
Selection: Select fruit that gives to gentle pressure and is unblemished.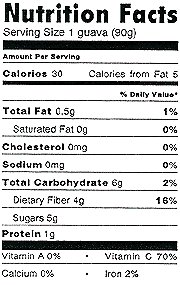 Storage: Ripen guavas at room temperature until they give to gentle pressure. Refrigerate ripe guavas immediately, and use within 4 days.
Nutrition Benefits: Low in fat, saturated fat free, cholesterol free, sodium free, good source of potassium, folate, fiber, Vitamin A, excellent source of vitamin C.
Phytochemicals: lycopene, quercetin, Ellagic acid