Description: Although green beans vary in size they average about four inches in length.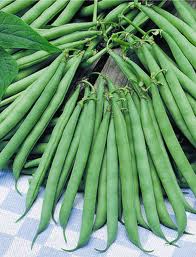 They are usually deep emerald green in color and come to a slight point at either end. They contain tiny seeds within their thin pods.
Availability: Summer through early fall
Facts: Green beans are picked while still immature and the inner bean is just beginning to form. They are one of only a few varieties of beans that are eaten fresh.
Serving Size = 1/2 CUP
Selection: Choose fresh, well colored beans that snap easily when bent.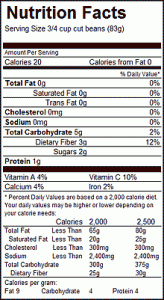 Storage: Refrigerate in plastic bag, use within 1 week.
Nutrition Benefits: Fat free; saturated fat free; sodium free; cholesterol free; low calorie; good source of fiber; good source of vitamin C.
Pigments: Beta-carotene, lutein, zeaxathin, indoles, isothiocyanates, organosulfur compounds
Phytochemicals: Flavones, flavonanones, flavonols,
ORAC Score: 200