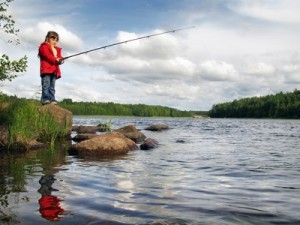 According to the U.S. Fish and Wildlife Service, recreational fishing is one of the most popular outdoor activities in the United States. 42 million people of all ages, representing 13% of the U.S. population, go fishing every year.
We don't normally think of fishing as a physically demanding activity – and it's true fishing is an activity in which just about anyone, regardless of fitness, can participate. New research shows getting out of the house and into the outdoors are crucial for our physical and mental health. But fishing has other health benefits.
Although it doesn't take a tremendous amount of strength or stamina to fish it does exercise the lungs, heart and various muscle groups in small but meaningful ways. First off, you have to get to your fishing spot: that might be a short (or long) walk to your favorite river bank fishing hole, beach or dock carrying all your fishing equipment. Or, you might take rowboat, canoe or motorboat to your favorite spot which involves other muscle sets. Assembling the rod and reel, attaching hooks and sinker work the small muscles of the fingers, hands, wrists and forearms. Casting of the bait into the water exercises the muscles of the upper arm, shoulder and back.
If you want to up the physical activity component of your fishing expedition consider go after trout (the constant casting is aerobic) or deep sea fishing for marlin or tuna. If you hook a really big one you have to land it, and that can involve quite a workout!
Fishing is also beneficial to the lungs and skin. Being outdoors gives individuals an opportunity to get plenty of fresh air into one's lungs. The vitamin D from sunshine is another health benefit derived from fishing provided you protect from the harmful rays with sunscreen.
The real benefits of fishing seem to be the mental benefits. According to researchers at Curtin University in Australia, most people go fishing to relax and unwind. Studies conducted found the act of preparing to fish, baiting the line, going out on a boat and sitting by the water, bonding with other fishermen helps to generate a sense of well-being.
A 2009 study conducted by researchers from the University of Southern Maine, the University of Utah, and the Salt Lake City Veteran's Administration documented the significant improvement in perceptual stress, PTSD symptoms, and sleep quality for vets who took part in a two-day, three-night residential fly fishing retreat.
The therapeutic effect derives from the combination of activities fishing brings together: mental relaxation, low-impact exercise and, very often, social camaraderie. For this reason it is now referred to as an anxiolytic (a drug that relieves anxiety).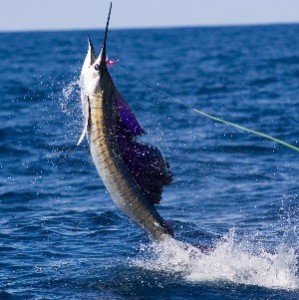 Fishing also fulfills an age-old need of pursuing and catching. The thrill lies in the challenge, such as stalking an elusive wild trout as much as the actual catch!
Finally, wild fish are low in fat and cholesterol and high in protein. The American Heart Association recommends a diet that includes fish at least once weekly.
Other Benefits of Fishing
Contributes to Conservation. The purchase of fishing licenses has helped fund wildlife and conservation programs. They also contribute to education programs, and to the purchase of thousands of acres of public lands, where everyone is welcome to recreate year round. Anglers are also acutely aware of the importance of clean water and air and pride themselves on protecting and preserving our environment, natural communities, and valuable habitat.
Social Bonding. Fishing with family and friends strengthens relationships.
Self-Fulfillment. Fishing offers you a chance to grow personally by mastering outdoor skills and achieving personal goals (catching a fish!).
Boosts local fishing economies. Fishermen generate millions in state and local taxes and directly support thousands of jobs that give a boost to state and local economies.
Not only can fishing can provide food for the table, it also provides fun, relaxation and quality time with family and friends. Finally, fishing brings individuals an opportunity to get outdoors and appreciate our natural resources.
Health Benefits of Fishing infographic
Sources
Identifying the health and well-being benefits of recreational fishing, Prof. A. McManus, Dr W. Hunt, J. Storey, J. White
American Sport Fishing Association
Virginia Department of Game and inland fisheries