Recent studies have shown that many of us are suffering a lack of exposure to nature and outdoor environments. Children are even more prone to these deficiencies. Increasing evidence demonstrates the many benefits of nature on children's psychological and physical well-being, including reduced stress, greater physical health, more creativity and improved concentration. Here are some ideas for your family to get outdoors!
Beyond the health and cognitive benefits children gain from unstructured play outdoors, nature also provides them with a sense of wonder and a deeper understanding of our responsibility to take care of the Earth, says Richard Louv, author of "Last Child in the Woods: Saving Our Children from Nature Deficit-Disorder". Yet, research shows nature is the last place you'll find children these days.
Here are ten reasons provided by the National Wildlife Federation why parents should care about this nature deficit:
Stronger bones and lower cancer risk. Today's "indoor kids" don't get enough sun and are becoming Vitamin D deficient, causing health risks.
Trimmer and healthier kids. An hour of play a day is what doctors say is a basic tool in the effort to ward off childhood obesity and diabetes.
Improved eyesight. Recent studies find that kids who get outdoor time have less nearsightedness and need for eye glasses.
Less depression and hyperactivity. Outdoor time in natural settings (even tree-lined streets) soothes kids and lowers their need for medications.
Longer attention spans. Children who stare at TV and video games all day have less patience and shorter attention spans.
Better at making friends. Children playing together outdoors relate directly with one another, create games together, choose sides and improve their "people" skills.
More creative. Outdoor kids are more likely to use their own imaginations, inventions and creativity while playing.
Less "acting out" at home and school. Getting kids away from TV violence and video games helps them see that violent behavior does not always solve problems.
Measurably better grades in school. The healthy bodies and minds that come with outdoor play are better able to do well in school.
A longer lifespan and healthier adult life. Doctors estimate that sedentary and obese children lose three to five years from their life expectancy.
Summer is the perfect time to explore the great outdoors and the US National Parks and Recreation areas provides an opportunity for people of all ages and abilities to get outside. Every single state has one or more National Parks, Forests, Monuments or Recreation areas. There is a little something for everyone.
Discover Geology
Geology is the science comprising the study of Earth, the rocks of which it is composed, and the processes by which they change.
Our National Park system features incredible examples of geology including: the water sculptured depths of Grand Canyon, the greatest density of arches in the world in Arches National Park, the world's largest and most colorful collections of petrified wood at Petrified Forest National Park, and over half of the known geysers in the world in Yellowstone National Park.
Tour the various types of Park Geology
Discover History
Stories of America's diverse places and people are found across the landscapes of our nation, in more than 400 national parks, in National Heritage Areas, along historic trails and waterways, and in every neighborhood.
National Park Service offers an opportunity to discover American history in all its diversity, from ancient archeological places featuring ancient dwellings and petroglyphs, to the homes of authors, poets and Presidents to battlefields.
Explore Glaciers
Evidence of past and present glaciation can be found across our national parks. But if you want to see these magnificent wonders you better hurry because we're losing them fast! Find a glacier.
Go Camping
There is no better way to experience the great outdoors than with an overnight or multi-night camping trip. Accommodations vary from primitive backpacking sites with no water to RV spots with water and electrical hook-up to tent cabins.
Go Hiking or Backpacking 
National Parks provide nearly limitless opportunities for hiking and backpacking across all types of terrains, climate and geology. Options range from easy 1/10 mile strolls easily accessed by car that look out over towering vistas, to the 2200 mile Appalachian Trail or the 2663 mile Pacific Crest Trail that traverse through multiple states.
Go Spelunking
Caves and karst features occur in 120 parks in all regions of the National Park System and represent important sources of underground water. The longest recorded cave system in the world is at Mammoth Cave National Park in Kentucky.
Paddle a Waterway
Rivers are magical places and are the artery of our country. There are opportunities to paddle, swim, fish and observe wildlife.
National Park Service Water Trails
National Wild and Scenic Rivers
Observe Wildlife
Our National Parks have an abundance and incredible diversity of wildlife to view (at a safe distance of course), photograph or sketch. When on trails keep your eyes peeled for tracks, fur, scat and more.
Visit a Hot Spring or Geothermal Area
These unusual areas are directly tapping the heat of the earth's core and bringing it to the surface.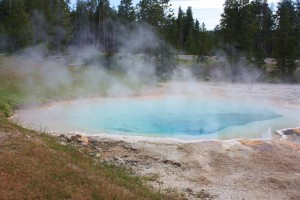 Visit a Volcano
There are many different types of volcanoes, rocks created from eruptions, and landforms that exist because of volcanic processes in the National Parks — many of them in places you wouldn't think to find them! Find a volcanic area.
Visit a Wetland
The National Park Service manages more than 16 million acres of wetlands, including salt and freshwater marshes, swamps, peat lands, mudflats, intertidal zones, and similar aquatic areas. Wetlands are great places to watch wildlife of all types.
Visit a Sand Dune
Although water can be found at some of the nation's sand dunes for some the beach is really far away! Learn how sand dunes are formed and more.
Kids Visit a Park and Become a Junior Ranger
The Junior Ranger Program is a popular youth program designed by the National Park Service to promote exploring, learning, and protecting the park while having fun. This free program is designed for school age children between the ages of 6 and 12; however, no child will be denied an opportunity to participate in the program. The Junior Ranger booklet can be picked up at the visitor center and has several age relevant sections that must be completed before the child will be awarded their badge and certificate.
Help is available from any park employee. In addition, parents and grandparents may provide assistance; however, the child should be encouraged to complete the booklet on his/her own while visiting the park.
Here's a list of National Parks that offer Junior Ranger Programs.
Become an Amateur Paleontologist
Junior Paleontologists explore the ways that paleontologists work, and the methods and tools they use to understand ancient life. They learn about Earth's history, ancient plants and animals, and changes to past climate and environments.
More than 242 National Park Service areas feature and preserve fossils. It is exciting to find a fossil, but important to protect it. If you find a fossil in a park, leave the fossil where it is, take a photo, and share your discovery with a park ranger.
Junior Paleontologist Activity Book (Download activity Book)
Other places to recreate outdoors
National Park Service. Our national parks have so many things to do: historical exhibits, art, photography, geology, wildlife, walking, hiking, backpacking, paddle sports, camping and more.
US Forest Service. Each state also boasts one or more national forests or grassland that provides additional opportunities for outdoor activities including hiking, camping, fishing and more.
Downloadable Map of National Forests
National Wildlife Refuge System. National Wildlife Refuge System has more than 560 refuges, 38 wetland areas encompassing 150 million acres of land and water. There is at least one national wildlife refuge in every state and within an hour's drive of most major metropolitan areas.
National wildlife refuges provide habitat for more than 700 species of birds, 220 species of mammals, 250 reptile and amphibian species and more than 1,000 species of fish. More than 380 threatened or endangered plants or animals are protected on wildlife refuges.
Bureau of Land Management.The Bureau of Land Management administers 264 million acres of public lands, located primarily in the 12 Western States, containing natural, historical and cultural attractions.
U.S. Fish and Wildlife Service. The Service helps protect a healthy environment for people, fish and wildlife, and helps Americans conserve and enjoy the outdoors and our living treasures. The Service's major responsibilities are for migratory birds, endangered species, certain marine mammals, and freshwater fish.