What have you learned about vegetable gardening this past year? Perhaps you had a few gardening disappointments due to the weather. Not enough or too much rain and the garden either dried up or drowned out. After all the hard work of planting and caring for the garden and all that you have is experience and frustration. I planted a small garden last summer while I was home in Michigan and had a similar experience. First of all, I planted the garden later than usual. Well, it didn't produce the crops that were expected. Some of the problem was due to lots of rain which gave the weeds a jump start. Then the roto tiller needed repairs and the hoeing didn't get done. Well, stuff happens no matter how hard you try. There were some vegetables harvested and I brought back some green tomatoes when we went home in October. They ripened in a brown paper bag. So, I'm still learning from my experiences.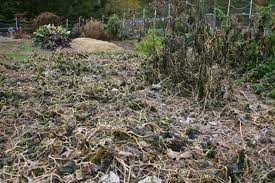 If you live in an area where you experience too much or too little rain, you might want to consider growing vegetables in raised-beds. You can control moisture easier, avoid compaction of the soil, have better pest control and easier gardening. I looked at a few websites about raised-bed gardening and it seems like an alternative if you have had problems with the weather. A raised-bed can be as small as four foot square or longer as you have space. Four feet wide is easiest to care for and a minimum of six inches deep. A raised-bed can be home-built or bought as a kit and ready to use. The raised-bed is used quite often for strawberries. Read all you can about raised-bed gardening and maybe you will have a successful garden next year.
Were there any disappointments with the growth of any vegetables? Hopefully you kept a record of each variety you grew. In every area of the country there are distinctive cultural techniques and old favorite crops that have been developed over the years. Ask some of the veteran gardeners in your community about the methods and varieties that have proved successful in your particular climate and soil conditions.
Don't forget to read my previous articles in the archives if you are a new reader to this column. I will be planting a garden in the ground this year instead of a five-gallon bucket as I had been doing while traveling in our travel trailer. The bucket gardening produced some nice tomatoes and cucumbers. Good luck with your gardening efforts!