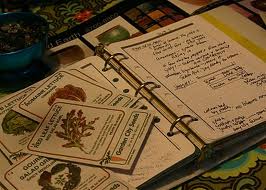 Have you found it helpful to keep a garden journal with your garden plans, (sketches or drawings), and to observe the activity in the garden as it grows? If you grew several varieties of tomatoes or other vegetables, be sure to record how you liked each one (our memory can fail us, but if you jot it down on paper it's there). A simple file folder can hold garden plans for years and is easy to keep. I also record the changes in the weather as the garden is growing. You will be surprised how interesting it will be to look back over the years of gardening.
Did you think to inventory your stored or preserved vegetables? A simple list on paper of your vegetables and the amount you have will help make meal planning easier—just don't forget to deduct the amount you use and keep your tally up-dated. It is also very rewarding to look at your stored vegetables and see how much money you saved by growing your own garden, not to mention how much tastier they are.
Now that the harvest is in and all put away, did you remember to clean the gardening tools and put them away in storage properly? Just a reminder as it will be easier to begin gardening next year if the tools have a good rest. Don't forget to give proper care to your hard working hands too.
October is a month we carve pumpkins and make many pumpkin baked goods. Don't forget to save the seeds from the pumpkins. Be sure to clean them and air dry them before they are labeled and stored for next year's planting. Have you ever roasted pumpkin seeds? I'm sure there are ideas on the website.
Now that you have done your homework, sit back and relax with a cup of cider and a pumpkin muffin and call it good.