Diabetes is a costly disease. Yet the cost of ignoring your diabetes treatment is even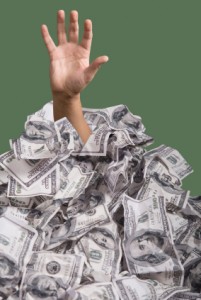 higher. The CDC estimates that each diabetic spends approximately $13,000 annually for health related expenses. Without proper treatment the costs associated with the complications can skyrocket, the treatment cost for a simple foot ulcer can reach $30,000. For those without health insurance diabetes can be daunting but there are programs that provide financial assistance for people with diabetes.
Medicare is a program sponsored by the Federal Government to assist with the payment of health care services for people who are 65 years and older. Medicare now includes coverage for glucose monitors, test strips, and lancets as well as medical nutrition therapy services for people with diabetes or kidney disease when referred by a doctor. Diabetes self-management training, which includes a certified diabetes educator, therapeutic shoes, glaucoma screening, and flu and pneumonia shots are also covered. People who become disabled may be eligible for Medicare, and limited coverage is available for people of all ages with kidney failure.
To learn if you're eligible, check with your local Social Security office or contact the Centers for Medicare & Medicaid Services
7500 Security Boulevard
Baltimore, MD 21244-1850
Phone: 1-800-MEDICARE  (633-4227)
Medicaid is a Federal/State entitlement program that pays for medical assistance for certain individuals and families with low incomes and resources. This program, is a cooperative venture jointly funded by the Federal and State governments (including the District of Columbia and the Territories) to assist States in furnishing medical assistance to eligible needy persons.
Within broad national guidelines established by Federal statutes, regulations, and policies, each State (1) establishes its own eligibility standards; (2) determines the type, amount, duration, and scope of services; (3) sets the rate of payment for services; and (4) administers its own program. Medicaid policies for eligibility, services, and payment are complex and vary considerably, even among States of similar size or geographic proximity. Thus, a person who is eligible for Medicaid in one State may not be eligible in another State, and the services provided by one State may differ considerably in amount, duration, or scope from services provided in a similar or neighboring State. In addition, State legislatures may change Medicaid eligibility, services, and/or reimbursement during the year.
For additional information about Medicaid programs on a state-by-state basis please visit:  To apply for Medicaid you may talk with a social worker or contact your local department of human services (listing available in the government pages of your local phone book – Blue pages).
The U.S. Department of Health and Human Services has established the State Children's Health Insurance Program (SCHIP) to help children without health insurance. SCHIP provides health coverage for children whose families earn too much to qualify for Medicaid but too little to afford private health insurance. Consumers can obtain information about the program by calling toll-free 1-877-KIDS-NOW  (543-7669).
Health Care Services
The Bureau of Primary Health Care, a service of the Health Resources and Services Administration, offers health care for people regardless of their insurance status or ability to pay. Through a nationwide network of community and migrant health centers, health care programs for the homeless, and primary care programs for public housing projects, HRSA provides a full range of preventive and primary health care services for rural and urban medically under-served communities.
To find local health centers, call 1-800-400-2742 and ask for a directory.
Many local governments have public health departments that can help people who need medical care. Your local county or city government's health and human services office can provide further information.
The Department of Veterans Affairs (VA) runs hospitals and clinics that serve veterans who have service-related health problems or who simply need financial aid. If you're a veteran and would like to find out more about VA health care, call 1-800-827-1000 or visit their website at.
Hospital Care
If you're uninsured and need hospital care, you may be able to get help. The Hill-Burton Act provides funding for free or reduced-charge medical services to low-income people. The program is administered by the Department of Health and Human Services. For more information, call 1-800-638-0742.
Dialysis
In 1972, Congress passed legislation allowing people of any age with permanent kidney failure eligibility for Medicare. Every American needing dialysis for chronic kidney failure is eligible for dialysis assistance. To qualify on the basis of kidney failure, you must require regular dialysis treatments or been the recipient of a kidney transplant. In addition you must have worked under Social Security, the Railroad Retirement Board, or as a Government employee (or be the child or spouse of someone who has), or already receiving Social Security or Railroad Retirement benefits. For more information, call the Centers for Medicare & Medicaid Services at 1-800-MEDICARE (633-4227) to request the booklet Medicare Coverage of Kidney Dialysis and Kidney Transplant Services. This booklet is also available on the Internet at www.medicare.gov under "Publications."
Organ Transplants
For information on financing an organ transplant, contact the following organization:
United Network for Organ Sharing (UNOS)
P.O. Box 2484
Richmond, VA 23218
Phone: 1-888-894-6361
Nerve Damage
You or your doctor can order a free filament to check feet for nerve damage. The filament (with instructions for use) is available by calling the Bureau of Primary Health Care's (BPHC's) Lower Extremity Amputation Prevention Program (LEAP) at 1-888-ASK-HRSA (275-4772) or by accessing  on the Internet.
Prosthetic Care
One of the unfortunate complications of diabetes is the risk for amputations. If you've had an amputation, paying for your rehabilitation expenses may be a concern. The following organizations provide financial assistance for people who need prosthetic care:
Amputee Coalition of America
900 East Hill Avenue, Suite 285
Knoxville, TN 37915-2568
Phone: 1-888-AMP-KNOW (267-5669)
Prosthetics for Diabetics Foundation
323 Reed Way
Monroe, GA 30655
Phone: (770) 267-0019
Fax: (770) 395-7487
Technological Assistance

Assistive technology, to assist people with disabilities function more effectively at home, at work, and in the community, can include computers, adaptive equipment, wheelchairs, bathroom modifications, and medical or corrective services. The following organizations provide information, awareness, and training in the use of technology to aid people with disabilities:
Alliance for Technology Access (ATA)
1304 Southpoint Boulevard, Suite 240
Petaluma, CA 94954 Phone: (707) 778-3011
Utility and Gasoline Assistance
Assistance programs are offered by many gas, electric, water, and phone companies.
If you feel you may have difficulty paying your monthly bills, contact the company before your balance becomes too large.  Companies are more amenable to working out a payment plan with those willing to work with them.
Many states have regulations that prohibit companies from turning off utilities for disabled and elderly customers. Your doctor or social worker will probably need to write letters describing why the service(s) are medically necessary.  The regulations do not diminish your responsibility for paying the bills, but may allow you more time or lower monthly payments.
In an emergency situation, check with local help lines and social service agencies as some provide one-time emergency help with utility bills.
Low Income Home Energy Assistance Program
866-674-6327
Helps low-income households meet their home energy needs.
For state and local contact information
Free Gas USA, Inc.
A national non-profit assistance program for low-income residents of the US who are having trouble paying for gasoline. Applications can be made for gas grant cards that range in value from $50 to $1200, depending on need. Program has strict income eligibility requirements (an income calculator is available at their website).  Applications are only accepted online, must be substantiated by a human service agency.
Local Resources
Association of Jewish Family and Children's Agencies
Provide help for medical equipment, supplies, prescriptions and transportation to medical care.
Catholic Charities, USA
Some local offices have limited funding available to provide emergency financial assistance.
Friends of Man
Friends of Man is an all volunteer charity to help people with basic or special needs that cannot be provided elsewhere. They will assist with prostheses, wheelchairs, medical equipment, mobility equipment, hearing aids and orthopedic shoes. Application must be filled out by a healthcare professional.
Will provide assistance, up to $500.00 for those who are able to demonstrate a financial need.
Salvation Army
Local units can offer emergency financial assistance to families.
Finally, in many areas, nonprofit or special interest groups such as those listed below can sometimes provide financial assistance. In addition, some local governments may have special trusts set up to help people in need. You can find out more about such groups at your local library or your local city or county government's health and human services office.
Lions Clubs International, which can help with vision care
Rotary Clubs, which provide humanitarian and educational assistance
Elks Clubs, which provide charitable activities that benefit youth and veterans
Shriner's, which offer need-based treatment for children at Shriner's hospitals throughout the country
Kiwanis Clubs, which conduct fund-raising events and projects to help the community and especially children