Idealized in the 1950's, the family dinner used to be an important daily ritual in our lives. We sat at the table and ate healthy food made at home. We also shared our daily experiences, which brought us closer together and enriched our lives.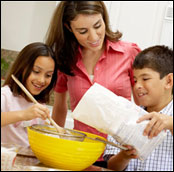 Today, kids and parents are over scheduled. Single, or two working parent households, struggle to cope with long work days and commutes. These factors have helped lead to a decline in family dinners.
At the same time we've experienced increases in obesity and chronic diseases such as, diabetes and heart disease. We even see malnutrition in kids who are overweight! Families are fracturing, kid's grades are dropping and there have been big increases in drop-out levels and teen "misbehavior".
Can all these things be connected to the decrease in the family dinner? As it turns out, many of them can be.
William Doherty, a University of Minnesota professor of marriage and family therapy, theorizes: "Adult notions of hyper competition and over scheduling have created a culture of parenting that's more akin to product development, and it's robbing families of time together," adding, "Frantic families equal fragile families."
"The family dinner is an important time for families to be together and talk, it's important for family bonds, having time together that's not stressful, enjoying each others company and being around food," said Dr. Karen Weber Cullen, a behavioral nutritionist at the Children's Nutrition Research Center at Baylor College of Medicine in Houston.
How Family Dinners Impact Diet
Americans eat an astounding 68% of their meals outside of the home and 37% of those are consumed in the car! Eating out can be convenient, but it�s also high in calories. The average restaurant meal has as much as 60% more calories than a homemade meal. Studies show that when we are presented with more food, we eat more food, possibly leading to our expanding waistlines. Not only are restaurant meals higher in calories they also tend to be higher in fat and salt than those eaten at home.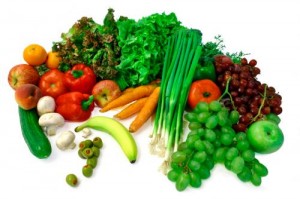 A 2000 Harvard study found that 9-14-year-olds who ate dinner with their families most frequently ate more fruits and vegetables and less soda and fried foods. Their diets also had higher amounts of many key nutrients, like calcium, iron and fiber. They also found "that children who ate family dinners more frequently had more healthy eating habits" overall, even when not at home.
A family meal is the perfect opportunity for parents to expose children to different foods and expand their tastes. Family dinners allow for both "discussions of nutrition and provision of healthful foods," says Matthew W. Gillman, MD, director of the Obesity Prevention Program at the Harvard Medical School.
How Family Dinners Impact School and Grades
A 1994 survey by Louis Harris and Associates found that "Students who regularly ate dinner with their families four, or more, times a week scored better than those who ate family dinners three, or fewer, times a week." Of teens who eat with their family fewer than three times a week, 20% get C's, or lower, on their report cards, according to a recent Columbia University report. Only 9% of teens who eat frequently with their families do as poorly in school.
Some studies have also found that children whose families ate together had better language skills. Mealtimes provided an opportunity for children to hear more spoken language and a chance to process conversations; further benefits accrue if new words and concepts are explained.
How Family Dinners Impact Children's Behavior
Studies have shown that kids who eat with their families frequently are less likely to get depressed, consider suicide, or develop an eating disorder. According to Dianne Neumark-Sztainer, PhD at the University of Minnesota's School of Public Health "if a child eats with his or her parents on a regular basis, problems will be identified earlier."
The Importance of Family Dinner IV, a study conducted by Columbia University, showed eating family dinners at least five times a week drastically lowers a teen's chance of smoking, drinking and using drugs. "While substance abuse can strike any family, regardless of ethnicity, affluence, age, or gender, the parental engagement fostered at the dinner table can be a simple, effective tool to help prevent it," says Elizabeth Planet, one of the reports researchers.
They are also more likely to delay sex and to report that their parents are generally proud of them.
Believe it or not, if you have a stressful job, finding time to eat with your family may actually help you feel more relaxed. In 2008, Brigham Young University conducted a study of IBM workers and found that sitting down to a family meal helped working moms reduce the tension associated with long office hours.
Family Dinners Save Money, Too!
Americans spend more than 40% of their food budget on meals outside of the home. According to the national Consumer Expenditure Survey from the Bureau of Labor Statistics, in 2007, the average household spent $3,465 on meals at home, and $2,668 on meals away from home. That's about $8 per meal outside of the home, and only about $4.50 per each meal made in your own kitchen.
How to get Started with Family Meals
If you have been eating only random meals together start by setting a goal of how many times you sit down for a meal. Begin with twice a week, at the minimum, and set the meal for the same time that day. Build from there.
Don't know how to cook? Learn together, as a family. Pick up The Williams Sonoma Kids in the Kitchen: Fun Food. This book successfully encourages kids to get involved in the actual cooking of their food, as well as enjoying the end product…without having to make food look like animals or insects, like so many kids "cookbooks" do. The New Junior Cookbook (Better Homes & Gardens Cooking) has great graphics, is well organized and provides information on cooking techniques and shopping tips.
Be prepared. Keep ingredients for healthful meals on hand, including plenty of fruits and vegetables (frozen veggies are okay).
Use the crock pot. Put everything together before leaving for work in the morning (have the older kids chop the vegetables the night before). You'll come home to the delicious smell of a cooked meal.
When cooking family favorites, double the recipe and freeze half for another meal.
Everybody helps. Whether its chopping vegetables, putting out condiments, setting the table or cleaning up, all family members can share the duties.
No television, phone, computers, texting or IMing during family meals.
Family meals don't have to be elaborate, so focus on familiar favorites. Laurie David, author of The Family Dinner says even something as simple as "Taco Tuesday" can help for the basis for future dinners together.
Avoid portion distortion. Keep serving sizes under control, whether you're at home or eating out.
Absolutely no time to cook? Pick up take-out, order pizza, or eat out. It still counts as quality time spent together.
Make it enjoyable. Find ways to engage the family into interesting discussions. The Family Dinner Project is a free online resource for nurturing family dinner time that provides conversation starters. David's book The Family Dinner provides many more. Family meals are for nourishment, comfort and support.
Set the mood. Create a relaxing environment by sprucing up the table with flowers, candles, cloth table coverings and napkins, and soothing music.
After decades of decline, the 2005 CASA study found that the number of adolescents eating with their family most nights has increased 23% since 1998.
Sources
David, Laurie. The Family Dinner (2010) NY, NY: Grand Central Life & Style (A Hachette Imprint)
National Center on Addiction and Substance Abuse — Columbia University. The Importance of Family Dinner IV (2010) NY:NY – http://www.casacolumbia.org/templates/publications_reports.aspx
Time Magazine
New York Times
http://www.families.com/
The Family Dinner Project — great online source for goal sheets, easy family dinners, topics of conversation and more.
Meals Matter