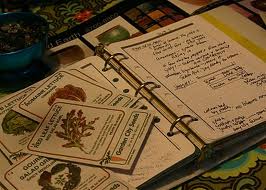 Autumn is the end of harvest and a time to reflect on the performance of our vegetable gardens. Be sure to make notes of the likes and dislikes of any vegetables and their varieties. That will help you with choices of vegetables next year. Also, record any problems experienced with pests or plant diseases. Keeping good records of your vegetable garden will help eliminate the same problems next year.
If you grew flowers in your vegetable garden, don't forget to cut off some of the dried blossoms so you can harvest the seeds to plant next year. Be sure to dry them thoroughly before storing them. I hope you remembered to save some pumpkin and winter squash seeds.
Just a reminder, don't forget to clean all your gardening tools before storing them. They will be in better shape to start gardening next spring. Review my archives for helpful hints about putting your garden to bed.
Be sure to order several different seed catalogs this fall as they contain helpful information about each vegetable. It will be good reading and help you plan your vegetable garden next year. Do some research about any problems you had with diseases or pests and how to eliminate them.
November is Diabetes Awareness month and I hope you have grown and preserved many healthy vegetables to maintain a healthy diet. A diet containing many vegetables is good for everyone, even if you are not a diabetic. Enjoy the "fruits of your labor".