For every possible emergency or disaster, you may need to determine quickly if you should shelter "in-place" or go to a designated shelter in your area. Whether sheltering in-place or at a designated shelter you should be prepared to care for your basic medical needs. This is particularly important for people with diabetes, who require specialized equipment and medication to maintain good health.
You should always be ready to be self-sufficient for at least three days. This may mean providing for your own shelter, first aid, food, water, and sanitation needs.
Being prepared, especially for people with diabetes could mean the difference between life and death.
Phases of an Emergency or Disaster
Each disaster or emergency has its own phases: pre-disaster, the disaster, immediate aftermath, recovery and re-building.
Pre-Disaster
This is the phase where planning and preparation can make the difference between life and death in an emergency.
Basic Disaster Planning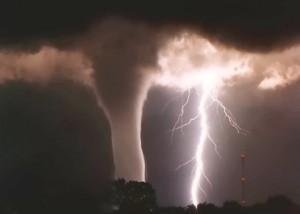 Every geographic area has its own special potential for emergencies. California has earthquakes, landslides and wildfires; the Gulf Coast and Eastern seaboard have hurricanes; huge portions of the country are now prone to tornadoes, high heat and/or humidity, thunderstorms and floods; or blizzards with high winds might be problems in your area.
Your specific preparation plan will vary depending on the potential emergency that might strike where you live. Your county or city government website should have specific information about area hazards so you can plan for them. Another source for this information is the American Red Cross near your home. Consider weather, geography and proximity to potential risks from manufacturing facilities, railroads or other transportation infrastructure.
Learn where to seek shelter from all types of hazards. Identify the locations of community shelters in case you are unable to stay in your home during the emergency. Determine emergency evacuation routes to shelters and out of town from home, work or school.
Identify the community warning systems and instruct your family how to find them in an emergency.
Develop a plan for communicating with your family. Cell phone lines could be jammed and you might not be able to call within the region. Designate a family member outside the area to relay information to other family members. Make sure everyone has this contact number. It may be necessary to use a land line or payphone to call the emergency contact person.
You should also designate a family meeting place, as near to your home, as possible that would be a safe location in an emergency. This is a contingency in case it isn't safe to return to your home immediately. You can re-group with family and come up with a plan of action. For example, in earthquake prone areas, the meeting place might be a park or open field to avoid potential building collapse in the aftershocks.
For each possible emergency, try and figure out in advance whether you will be able to shelter in place. For example: thunderstorms, blizzards and high winds you may choose to shelter in place where the biggest danger will be from power outages. In hurricane, flooding, or wildfire situations it's usually safer to evacuate from the region or be in the safety of a community shelter.
Earthquakes and tornadoes are sudden emergencies requiring split second decision making. Identify the safest place in your home to survive an earthquake or a tornado. This would be the best place to store your emergency supplies. Debris could trap you in that location so you will want to have it handy. After the immediate incident is over you can take stock of your situation and get to a shelter if you are still in danger and it isn't life-threatening to do so.
If you have school aged children, get a copy of the schools plans for emergencies so you can incorporate this into your own planning.
The Immediate Aftermath of a Disaster
Coping Emotionally with a Disaster
Disaster Assistance and Resources
Sources
California Emergency Management Agency
Federal Emergency Management Agency
Kentucky Department of Public Health, Cabinet for Health and Family Services
Washington State Department of Public Health