With so many choices, it's hard to know what we should eat. Our diets should be made of up of as many WHOLE foods as possible.
What is a whole food?
Whole foods are foods that are minimally processed. Examples include:
Fruit and vegetables that are fresh, frozen or dried.
Whole grains such as oatmeal, popcorn (yep it's a whole grain) or brown rice
Legumes which include lentils and dried beans
Lean meats and fish
Dairy items such as milk, cheese and yogurt
How can we make sure the food we're getting is whole food?
The best way to be sure you are eating whole foods is to actually cook yourself.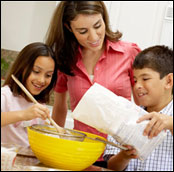 Lots of kids are starting to cook, with their parents and sometimes even by themselves (but be sure to ask for permission first!). Kids are being invited to submit healthy lunch recipes for White House State Dinners and there has even been a television cooking competition for kids.
If you are involved in cooking you can experiment with favorite foods and foods that are new to you. You might discover that you don't really like asparagus that is steamed but you love it roasted in the oven.
Here are some resources for kid friendly cooking tips and recipes.