Description: Usually deep purple in color with wrinkled yet plump fruit.

Availability: Year round
Facts: Used to be called a prune, but that name has been given a bad rap over the years so the California Plum growers are updating its image. California is the world's largest producer of dried plums, supplying 60 percent of the world's supply and 99 percent of the U.S. supply. A prune/plum tree produces up to 300 pounds of fruit. Fans of the fruit should appreciate each little one, as it takes three pounds of the fresh fruit to make one pound dried!
Serving Size = 1/4 CUP (5 dried plums)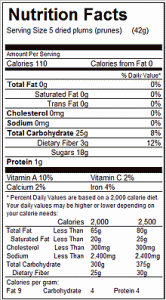 Selection: Avoid darkened or moldy plums.
Storage: Store unopened containers at room temperature. Refrigerate after opening.
Nutrition Benefits: Fat free; saturated fat free; sodium free; cholesterol free; good source of dietary fiber; good source of vitamin A.
Pigments: anthocyanins,
Phytochemical: chlorogenic acid, p-coumaric acid, ferulic acid, malic acid, sorbitol
ORAC Score: 5770