Physical Activity
Regular physical activity will improve bone and joint health in your feet and legs, circulation to your legs, and help stabilize your blood sugar levels. Walk and exercise in comfortable shoes. Do not exercise when you have open sores on your feet. Plan your physical activity program with your health team.
Keep blood flowing to your feet by wiggling your toes and moving your ankles up and down for 5 minutes, two or three times a day. Don't cross your legs for long periods of time.
Protect Your Feet
People with diabetes should never go barefoot. Always protect your feet by wearing shoes or hard-soled slippers or other similar footwear. Wear shoes/boots that will protect your feet from various weather conditions (cold, moisture, etc.).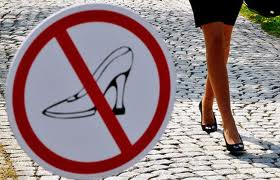 Caution: Wearing shoes with high heels, pointed toes, or shoes that expose your toes or heels (such as open-toed shoes or sandals) can increase your risk for injury and potential infections.
Check your shoes. Look and feel inside your shoes before putting them on to make sure there are no foreign objects or rough areas (or spiders!).
Wear clean socks. Diabetes can cause poor circulation in the feet as well as skin irritation. It's important to wear clean, dry socks every day and to avoid socks with holes or wrinkles. Choose natural-fiber socks (cotton, wool, or a cotton-wool blend) when possible, which allow moisture, to wick away from the foot. DDF has evaluated and likes Wearever's Buster Brown Cotton Socks. These socks are made with 100 percent cotton and no elastics or synthetics for maximum comfort and durability.
If you suffer from diabetic neuropathy or peripheral arterial disease (PAD) you should also avoid socks that are tight, have stiff seams or are heavily elasticized because they can create pressure points or reduce circulation. Wearever's Buster Brown Loose Top Socks fit the bill and are made of acrylic, polyester and spandex for breath-ability and moisture wicking. These gentle socks help to maintain lower leg circulation, reduce swelling, and ensure all-day comfort. Their sock line is designed to improve comfort, promote healthy circulation, reduce binding, and help eliminate skin irritation.
Consider using compression stockings if your feet tend to swell.
Make sure your shoes fit properly. Wear special shoes if your health care provider recommends them.
Don't burn your feet. Never use a hot water bottle, heating pad or put your feet near a heater, especially if you suffer from neuropathy. You may burn your feet and not feel it, creating further problems.
Eliminate obstacles. Move or remove any items you are likely to trip over or bump your feet on. Keep clutter off the floor. Light pathways used at night – indoors and outdoors.
Quit Smoking.  Smoking accelerates damage to blood vessels, especially small blood vessels, leading to poor circulation, which is a major risk factor for foot infections and, ultimately, amputations.
Good Diabetes control. Eating properly, taking your medications, checking your blood sugar regularly, exercising and seeing your medical team is essential in keeping your diabetes under control. Keeping long-term blood sugar control to near normal levels can greatly lower the risk of damage to your nerves, kidneys, eyes and blood vessels, as well as being healthy for your feet.