Transportation Safety Administration guidelines specifically state passengers are permitted to board airplanes with insulin, syringes, insulin pumps, liquids" including "water, juice, or liquid nutrition," and "all diabetes related medication, equipment, and supplies."
General tips for airline travel
Arrive at the airport 90 minutes before a domestic flight and 2-3 hours before an international flight. This will allow you plenty of time to pass through airport security if needed. Be sure to review TSA's website for travel updates.
Pack medications in their original and properly labeled packaging in a separate clear bag and place in your carry-on luggage.
Keep a quick-acting source of glucose to treat low blood glucose as well as an easy-to carry snack.
Carry or wear medical identification and your physicians contact information.
Pack extra testing supplies.
Be patient with lines, delays, and new screening procedures.
Diabetes supplies permitted through security
All diabetes related medication, equipment and supplies are allowed through security. However, that doesn't mean all TSA employees are up to speed, so remain calm and provide appropriate documentation if necessary.
Here's what you can take on the plane: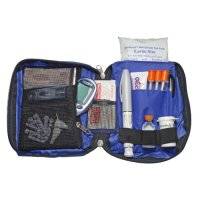 Insulin and insulin loaded dispensing products (vials or box of individual vials, jet injectors, biojectors, epipens, infusers, and preloaded syringes)
Unlimited number of unused syringes when accompanied by insulin or other injectable medication
Lancets, blood glucose meters, blood glucose meter test strips, alcohol swabs, or meter testing solutions
Insulin pump and insulin pump supplies (cleaning agents, batteries, plastic tubing, infusion kit, catheter, and needle)—insulin pumps and supplies must be accompanied by insulin
Glucagon emergency kit
Urine ketone test strips
Unlimited number of used syringes when transported in Sharps disposal container or appropriate hard-surfaced container
Sharps disposal containers or similar hard-surface disposal container for storing used syringes and test strips
Liquids (to include water, juice, or liquid nutrition) or gels
Continuous blood glucose monitors