Description: Long cylindrical vegetable with rich green skin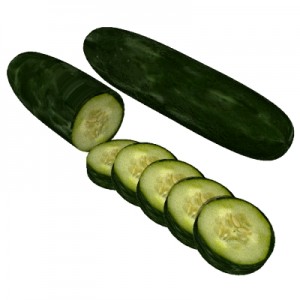 Availability: Year round – but best in summer
Facts: Cucumbers probably first grew wild in the mountains of northern India. Only cucumbers grown outdoors will produce seeds. Those grown in a greenhouse have no seeds because green house varieties are not pollinated. Related to squash.
Serving Size = 1/2 CUP
Selection: Choose firm, well shaped cucumbers with dark green color, heavy for size.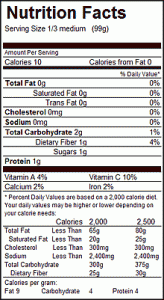 Storage: Refrigerate in plastic bag up to 1 week.
Nutrition Benefits: Fat free; saturated fat free; sodium free; cholesterol free; low calorie; good source of vitamin C.
Pigments: Beta-carotene, lutein, zeaxathin,
Phytochemicals: Flavones, flavonanones, flavonols,
ORAC Score: 60