Description: A white compact head (though there are now some orange and purple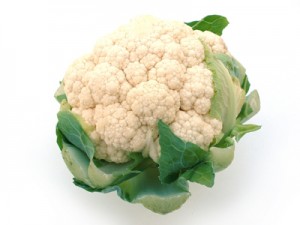 varieties available) called a curd generally around six inches in diameter.
Availability: Late fall through early spring
Facts: Closely related to cabbage, broccoli and Brussels Sprouts. Do not cook cauliflower in aluminum or iron pots. The chemical compounds in cauliflower will react with the aluminum and turn the vegetable yellow. While in an iron pot, it will turn a brown or blue-green color.
Serving Size = 1/2 CUP
Selection: Choose cauliflower with compact, creamy white curds and bright green, firmly attached leaves. Avoid brown spots or loose sections that are spread out.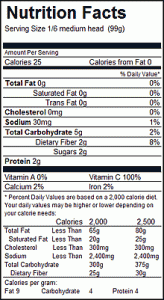 Storage: Refrigerate in plastic bag up to 5 days.
Nutrition Benefits: Fat free; saturated fat free; very low sodium; cholesterol free; low calorie; high in vitamin C; good source of folate.
Phytochemicals: Flavonols, flavonanones, indoles, isocyanates, organosulfur compounds
ORAC Score: 385