Description: They look like a miniature version of a cabbage.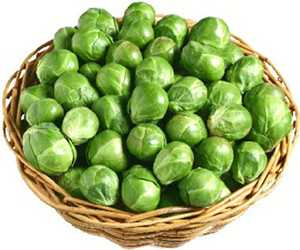 Availability: Fresh – Fall through early spring
Facts: Brussels Sprouts were named after the capital of Belgium where they were first cultivated. They are also one of the few vegetables to have originated in northern Europe. They were first introduced to France and England in the nineteenth century where they continue to be a popular food. French settlers who settled in Louisiana introduced them to America.
Serving Size = 1/2 CUP
Selection: Choose firm, compact, bright green heads. Buy on stalk when possible.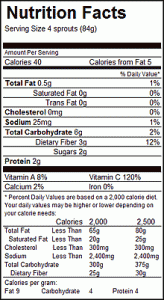 Storage: Refrigerate in plastic bag up to 1 week.
Nutrition Benefits: Low fat; saturated fat free; very low sodium; cholesterol free; low calorie; good source of dietary fiber; high in vitamin C; good source of folate.
Pigments: cholorphyll, lutein, beta-carotene
Phytochemicals: glucobrassicin, p-coumaric acid, D-glucaric acid, caffeic acid, ferulic acid, alpha-lipoic acid
ORAC Score: 980