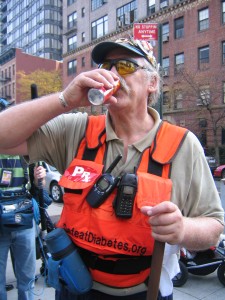 Andy Mandell was diagnosed with Type 2 diabetes in 1985. After that, Andy continued to live as he had, working hard, playing even harder. He did follow his doctor's advice to read ingredient labels and NOT eat anything that had "sugar" in the top three ingredients. He was feeling well and had been, both before and after diagnosis (that's how insidious diabetes is), and gave little thought to the severe complications associated with diabetes. His disease continued to quietly progress until the day when he woke up to find that he couldn't move without being in excruciating pain.
As the disease grew stronger Andy grew weaker. His neuropathy became so severe that he couldn't bear to have anything touching his skin. Finally, he was in bed 20 hours a day (for two years), had limited feeling in his feet and legs and had lost 75-80 pounds. Imagine, a runner who could barely feel his legs!
Andy was faced with a choice that all diabetics ultimately face, take management of your health condition seriously or die.
Through aggressive self-management of his condition, coupled with sound medical advice from a group of diabetes specialists, he began to rebound from his debilitated physical state. He exercised through the pain, monitored every bite of food he ate, tested his blood sugar as many as 12 times per day, and took regular insulin injections of two different types – putting him on the road to recovery.
Andy thought that if he, a dedicated exerciser (he never considered himself an athlete), could nearly die from the disease; imagine what other people must be going through? He had only one course of action — do anything and everything in his power to "Defeat Diabetes".
In 1990, he co-founded Defeat Diabetes Foundation (DDF) with his brother, Jerry, to educate and inform the public about diabetes and the dangers that it poses. Since that time he's become knowledgeable in the field of diabetes, authored a fitness manual for diabetics, articles for a variety of publications and websites, and helped develop a screening test brochure that has been distributed to millions of children throughout the United States.
He lectures tirelessly about diabetes to individuals, elected officials, schools, community groups and organizations and has, to date, delivered hundreds of talks on the subject. He makes numerous appearances with the media as spokesman for Defeat Diabetes Foundation.
On December 21, 2008 Andy completed The Mr. Diabetes®Wake Up and Walk® Tour – an epic 10,030.3 mile journey walking the perimeter of the United States to raise awareness about diabetes. During the eight years of THE WALK™ he met with over 78,000 individuals, one-on-one and many thousands more, in groups who came out to meet him and share their own diabetes concerns and experiences. He conducted approximately 1000 media interviews (newspaper, magazine, radio, TV and Internet), reaching over 70 million Americans. Mandell has met with Senators, Congressmen, Governors, Mayors and other elected officials, and received 130+ proclamations and commendations for his efforts, including a Congressional Proclamation in June, 2005. He also had substantive meetings with hospital administrators and scientists to discuss and learn about the latest treatments for diabetes.
Next, he is writing several books based on his experiences. He will continue to develop meaningful programs for Defeat Diabetes Foundation including, Kid Initiative to Defeat Diabetes® (KIDD™), a health curriculum for schools that shows the relationship between nutrition, physical activity and diabetes and others.
He will continue his extensive speaking schedule reaching out to groups of all ages, contribute where possible to the science of diabetes and, in general, be an advocate for ALL diabetics.