Dietary guidelines suggest that individuals eat 6 servings of grains each day with at least 3 of those should be whole grains. That amount sounds daunting until you realize what constitutes a serving.
What's a Serving of Whole Grains?
1 slice of bread
1 oz dry cereal (ranges from 1/2 to 1 1/4 cups depending on the cereal)
1/2 cup cooked rice, pasta, or other grain
1/2 cup cooked cereal (oatmeal, kasha)
1 oz raw grains
2 cups popped popcorn
How to Add Whole Grains to Your Diet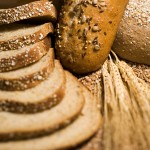 There are many easy ways to add more whole grains to your diet. Start by substituting a whole-grain product for a refined grain product. It's important to remember to substitute the whole-grain product for the refined one, rather than adding the whole-grain product.
Choose whole grain breads, tortillas, bagels, pita pockets and rolls.
Choose a quick and easy ready-to-eat or ready-to-cook whole grain cereal for breakfast. (More than 30 whole grain breakfast cereals are distributed nationally.)
Pour some dry, bite-size cereals into a bag, or grab a whole grain cereal bar to take along with you as a snack during your busy day.
Try whole grain muffins or cornbread made with whole grain corn meal.
Pop popcorn.
Enjoy low fat whole grain crackers, baked tortilla chips or a brown rice cake as a snack.
Add whole grains to mixed dishes — Try adding some pearl barley, wild or brown rice to your favorite soup, stew or casserole.
Add oats to cookies or other desserts.
Try substituting whole grain flour for one-fourth to one-half of the white flour called for in pancake, waffle, muffin or other flour-based recipes. They may need a bit more leavening.
Choose whole grain pasta (macaroni, spaghetti, noodles), pancakes or waffles for a change of pace.
Try a hot or cold whole grain side dish (such as pilaf or stuffing) using brown or wild rice, kasha, bulgur or pearl barley.
For a change, try brown rice.
Use whole-grain bread or cracker crumbs in meatloaf.
Try rolled oats or a crushed, unsweetened whole grain cereal as breading for baked chicken, fish, veal cutlets, or eggplant Parmesan.
Try an unsweetened, whole grain ready-to-eat cereal as croutons in salad or in place of crackers with soup.
Freeze leftover cooked brown rice, bulgur, or barley. Heat and serve it later as a quick side dish.