For the first time, this generation of children is on the fast track to live shorter, less healthy lives than their parents. Childhood obesity is a serious problem in the United States with one in three American children overweight or obese. Pediatricians are diagnosing diseases in children that were once thought of primarily as "adult" diseases, such as Type 2 diabetes, high cholesterol and hypertension. That's scary and unnecessary. Here are 20 family fitness tips to get your family on the right track!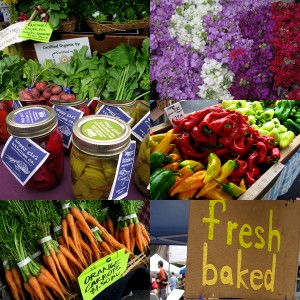 Start taking control of your families health by gradually improving your nutrition, level of physical activity, reducing screen time and spending more time together as a family (which has a whole host of positive benefits).
Screen Time
The American Academy of Pediatrics (AAP) recommends that kids under age 2 have no screen time, and that kids older than 2 watch no more than 1 to 2 hours a day of quality programming.
Family Meal Times
Unfortunately, nearly 67% of all meals are eaten outside of the home – a shocking 38% of those are eaten in THE CAR! Family meal times do matter in many ways.
Although family meal time is important, so is what you eat at family meals. Parent's set the tone for what children eat. If you turn your nose up at that pile of Brussels sprouts, the chances are excellent your kids will do the same.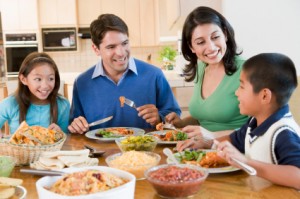 Even for children at a healthy weight, most have unhealthy diets that put them at risk for developing diabetes, coronary heart disease, cancer, high blood pressure, stroke, osteoporosis and other diseases.
Only 2% of children (2 to 19 years) meet the five main recommendations from the U.S. Department of Agriculture for a healthy diet. These guidelines emphasize fruits, vegetables, whole grains, fat-free or low-fat milk and milk products; includes lean meats, poultry, fish, beans, eggs and nuts; and, is low in saturated fats, trans-fats, cholesterol, salt (sodium) and added sugars.
Children and teens typically over-consume calories, saturated fat, trans-fat, refined sugars and sodium. Many of those calories come in the form of beverages served in our schools.
Be open to new food types of fruits and vegetables and try out new ones as often as possible. You can find lots of new fruits and veggies to try here. Here are some tips on How to Add Fruit and Veggies to Your Diet.
You can start substituting whole grains for the refined ones presently in your diet. Here's some tips for adding whole grains to your diet.
We can also be kind to ourselves, our planet, our fellow animals and our pocket books by instituting Meatless Mondays (or any day) into your family routine.
Sugary Drinks
According to the USDA, soft-drink consumption, which includes soda, fruit-flavored and part-juice drinks, and sports drinks, has increased almost 500% over the past 50 years.
Children start drinking soda at a remarkably young age and consumption increases through young adulthood. Fifty-six percent of 8-year-olds consume soft drinks daily and a third of teenage boys drink at least three cans of soda a day. On average, adolescents get 11% of their calories or 15 teaspoons of sugar from soft drinks each day.
Not only are soft drinks contributing significant amounts of calories and sugar to the diets of children and adolescents, they are also replacing milk as the beverage of choice. In fact, teenage boys and girls are drinking twice as much soda as milk and the availability of soda in the U.S. now exceeds that of milk.
Many studies show the connection between soft drinks and growing rates of obesity. For example, one study found that, with each additional serving of sugar-sweetened drink for children, obesity risk was 1.6 times higher.
Here at DDF we've signed onto the Life's Sweeter with Fewer Sugary Drinks Campaign. The goal is to reduce the number of sugary drinks consumed to 3 per week by 2020. Yes, you read that right 2020! That should give you an idea of the severity of the problem – it's going to take us that long to get there.
Sign up for the Challenge Here!
Increase Physical Activity
Most parents underestimate the amount of physical activity their kids are getting. Have your kids fill out this Physical Activity Log to give you an idea of where you can add activity to their daily routine.
As a parent, you can help shape your child's attitudes and behaviors toward physical activity. Encourage your kids to be physically active for one hour or more each day, with activities ranging from informal, active play to organized sports. Set a positive example by leading an active lifestyle yourself.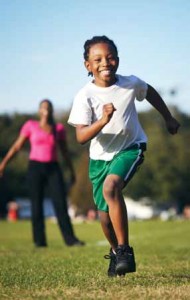 Make physical activity part of your family's daily routine by taking family walks or playing active games together.
Give your children toys and equipment that encourages physical activity.
Take your children to places where they can be active, such as public parks, community baseball fields or basketball courts. Even brief ten minute trips going to someplace else can make a big difference (and make the car ride easier)
Encourage your child's interest in physical activities also trying new ones.
Make physical activity fun. Fun activities can be anything your child enjoys, either structured or non-structured. Activities can range from team sports or individual sports to recreational activities such as walking, running, skating, bicycling, swimming, playground activities or free-time play.
Instead of watching television after dinner, encourage your child to find fun activities to do on their own or with friends and family, such as walking, playing chase or riding bikes.
Be safe! Always provide protective equipment such as helmets, wrist pads or knee pads and ensure that activity is age-appropriate.
Here's 20 Tips to Reduce Obesity and Improve Your Families Health. These include 5 tips each for Reducing Screen Time, Increasing Physical Activity, Living a Healthier Lifestyle and Adding Fruits and Vegetables to Your Diet. If this is all you can manage it's a great start toward a fitter family.