This site complies with the HONcode standard for trustworthy health information:
verify here.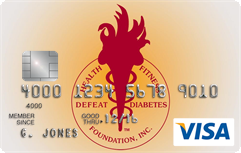 Rewarding for
you and us
Defeat Diabetes Foundation
Defeat Diabetes
Foundation
150 153rd Ave,
Suite 300
Madeira Beach, FL 33708
Sweet Vichyssoise
Source: Fat Free Living Cookbook From Around The World
by Jyl Steinback, Americas Healthiest Mom
Serves: 6

1½ cups fat free chicken broth
3 cups skim milk
1½ cups sweet potatoes, peeled and cubed
2 cups chopped celery
1½ tbsp. fat free ricotta cheese
¼ tsp. pepper
1 tbsp. onion powder
2 drops Tabasco sauce
Combine chicken broth, sweet potatoes, celery and onion powder in a food processor or blender and process until smooth. Pour mixture into large soup pot and bring to a boil over medium high heat. Reduce heat to medium low and simmer 30 minutes. Remove soup from heat. Combine milk, pepper, Tabasco and cheese in a food processor or blender and process until smooth. Gradually add milk mixture to broth and mix well. In separate batches, blend soup in food processor or blender. Refrigerate soup several hours before serving.
Nutrition per Serving
Exchanges
Carb Choices
Calories
102
½ milk
2
Fat
< 1 g
¾ starch
Carbohydrates
18 g
Protein
7 g
Cholesterol
3 mg
Dietary Fiber
2 g
Sodium
328 mg
Costa Rica Travel Corp. will donate a portion of the proceeds to and is a sponsor of Defeat Diabetes Foundation.
Send your unopened, unexpired test strips to

:


Defeat Diabetes Foundation
150 153rd Ave, Suite 300
Madeira Beach, FL 33708
DDF advertisement
Analyze nutrition content by portion
DDF advertisement