This site complies with the HONcode standard for trustworthy health information:
verify here.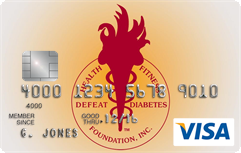 Rewarding for
you and us
Defeat Diabetes Foundation
Defeat Diabetes
Foundation
150 153rd Ave,
Suite 300
Madeira Beach, FL 33708
Obesity in Middle Age Associated With Increased Risk of Future Dementia
Posted: Thursday, May 05, 2005
Obesity in middle age is associated with an increased risk of dementia in old age independent of sociodemographic characteristics and common comorbidities, according to the results of a 27-year study.

"Contrary to findings from cross sectional studies, a recent prospective study found that obesity in elderly women increases the risk of dementia," write Rachel A. Whitmer, and colleagues from Kaiser Permanente, University of California in San Francisco. "Assessment of obesity before old age may be a more accurate representation of adiposity as the ratio of lean to fat mass changes with ageing, resulting in a decreased body mass index."

In a multiethnic cohort of 10,276 men and women at the Kaiser Permanente Northern California Medical Group, the investigators determined the predictive value of mid-life adiposity, reflected in body mass index and tricep and subscapular skinfold thickness, on the risk of developing dementia. Participants had detailed health evaluations from 1964 to 1973 when they were aged 40 to 45 years, and they were still members of the health plan in 1994. Average duration of follow-up was 27 years.

The primary outcome was diagnosis of dementia from January 1994 to April 2003. Cox proportional hazard models evaluated time to diagnosis adjusted for age, sex, race, education, smoking, alcohol use, marital status, diabetes, hypertension, hyperlipidemia, stroke, and ischemic heart disease. Obesity was defined as body mass index of at least 30 kg/m2, overweight as body mass index 25.0 to 29.9 kg/m2, and normal weight as body mass index 18.6 to 24.9 kg/m2.

From January 1994 to April 2003, 713 (6.9%) participants were diagnosed with dementia. Compared with dementia risk in people of normal weight, risk of dementia was increased by 74% in obese people (hazard ratio [HR], 1.74; 95% confidence interval [CI], 1.34 to 2.26), and by 35% in overweight people (HR, 1.35; 95% CI, 1.14 to 1.60).

Body mass index predicted dementia more strongly in women: obese women were 200% more likely to have dementia than women of normal weight, whereas obese men had a nonsignificant 30% increase in risk.

Study limitations include ability to assess dementia only in participants who were still members of the health plan when dementia was diagnosed; lack of data on exercise, nutrition, or mid-life measures of cognitive functioning; lack of measurement of central obesity; and possible underdiagnosis of dementia in those who did not participate in visits.

"Adiposity in mid-life is associated with an increased risk of dementia in old age independent of sociodemographic characteristics and common comorbidities," the authors write. "Future studies on obesity and dementia should consider distribution of adiposity and the role of adipocytokines on brain structure and function. If these results can be confirmed elsewhere, perhaps treatment of obesity might reduce the risk of dementia."


Source: Diabetes In Control.com
Costa Rica Travel Corp. will donate a portion of the proceeds to and is a sponsor of Defeat Diabetes Foundation.
Send your unopened, unexpired test strips to

:


Defeat Diabetes Foundation
150 153rd Ave, Suite 300
Madeira Beach, FL 33708
DDF advertisement
Analyze nutrition content by portion
DDF advertisement