This site complies with the HONcode standard for trustworthy health information:
verify here.
Defeat Diabetes
Foundation
150 153rd Ave,
Suite 300
Madeira Beach, FL 33708
February is American Heart Month
Diabetics Can Delay Heart Disease
At least 65 percent of people with diabetes die of some form of heart disease or stroke. You can avoid or delay heart and blood vessel disease by controlling your other risk factors.
Lifestyle changes are not always easy. But, by making these changes, you are can contol your diabetes and reduce the risk of complications: Quit smoking, manage weight and control blood sugar and carbohydrate intake.
It's still so bitter cold and snowy this winter, so this month we thought we would bring you Part 2 of our Comfort Foods, Soups and Stews. As always, all our recipes include the nutrional content and are lower in sodium.
February is American Heart Month. As you read this UPDATE you will learn heart healthy tips.

Joke of the Month - Deep Thoughts
If quitters never win and winners never quit, what fool came up with, "Quit while your ahead"?!

Did you ever notice that when you blow in a dogs face he gets mad at you but when you take him in a car, he sticks his head out the window?

Is there another word for synonym?

If vegetable oil comes from vegetables, where does baby oil come from?

What was the best thing before sliced bread?

If FED EX and UPS were to merge, would they call it FED UP?
---
Know Your Fruits and Veggies™
By Dawn Swidorski, Public Outreach Director
The
parsnip
(
Pastinaca sativa
) is an often ignored, yet delightful, root vegetable related to the carrot. The parsnip is also a relative of celeriac and parsley root and closely resembles carrots in appearance, but is tan and have a more distinct flavor.
More
---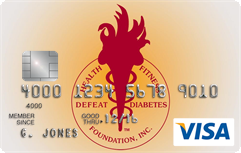 Rewarding for
you and us
Defeat Diabetes Foundation
Support Defeat Diabetes Foundation with every purchase
$50 donation by the bank when you first use the card plus ongoing contributions.
Earn Bonus Points
No annual fee and no additional cost to you.
We LOVE to hear from our Readers. We are starting a new feature where you can send in helpful hints about: Nutrition, Kitchen, Gardening, Tools, Cars, or anything you would like to share. Please send them to me directly,
lrasolt@DefeatDiabetes.org
.
Here's one from Nikki Barber-Mitchell, Seminole, Florida:
Better than paper towels and a lot less expensive...Coffee filters ..... Who knew! And you can buy 1,000 at the Dollar Tree for almost nothing even the large ones.
1. Cover bowls or dishes when cooking in the microwave. Coffee filters make excellent covers.
2. Clean windows, mirrors, and chrome... Coffee filters are lint-free so they'll leave windows sparkling.
3. Protect China by separating your good dishes with a coffee filter between each dish.
Many More
Thanks Nikki!
---
Treatments on the Horizon
---
Subscribe to get your free, monthly online Defeat Diabetes® E-Lerts™ Newsletter.

---
This concludes the Defeat Diabetes® E-Lerts™ Newsletter.
If there are specific questions you have, you may reach us at info@DefeatDiabetes.org.
If you're not already receiving E-Lerts™ each month, please join us and subscribe to the Defeat Diabetes« E-Lerts™ Newsletter.
To unsubscribe, please go to our unsubscribe form.
Defeat Diabetes Foundation is a 501(c)(3) nonprofit charity. Our web site is secure and all donations are tax-deductible.



Send your unopened, unexpired diabetes testing supplies to

:

Defeat Diabetes Foundation
150 153rd Ave, Suite 300
Madeira Beach, FL 33708
DDF advertisement
Analyze nutrition content by portion
DDF advertisement