May 2010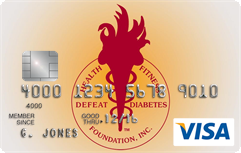 Rewarding for
you and us
Defeat Diabetes Foundation
Support Defeat Diabetes Foundation with every purchase
$50 donation by the bank when you first use the card plus ongoing contributions.
Earn Bonus Points
No annual fee and no additional cost to you.
Message
From Our Executive Director
By Andrew P. Mandell – MR.DIABETES®
May 2010
MAY IS STROKE AWARENESS MONTH
Stroke is no joke!! People with diabetes are 4-6 times more likely to suffer a stroke than those in the general population. In fact, 2 out of 3 people with diabetes will actually die from stroke or heart disease. Strokes are the No. 3 cause of death in the United States.
What is a Stroke?

Stroke is a condition that affects the arteries leading to and inside the brain. A stroke occurs when one of the blood vessels to the brain is either blocked by a clot, or bursts. When that happens, part of the brain cannot get the blood (and oxygen) it needs, so it starts to die.
More
---
Wrap celery in aluminum foil when putting in the refrigerator, and it will keep for weeks. ~ Peggy V.
---
Walking for Fun & Fitness
By: Bonnie Stein, M.Ed., C.P.T.S.
May 2010


BE INEFFICIENT TO LOSE WEIGHT
"Highland four, nine four, two six." That was how I recited my phone number when I was five years old. Back then (in Miami, Florida) the first two numbers of one's phone number were "said" with letters. I also remember the telephone - just one for the whole house. It was black (of course) with a rotary dial. It had a special place - a squatty, black phone stand, with a small seat and a slim slot to hold one phone book, yellow pages and all.
Back in the 1960's, no one that I knew ran or walked for fitness. We ate red meat five nights a week (chicken one night, and frozen fish sticks another) and plenty of high fat dairy products. Yet, Americans were significantly trimmer in those days. Back then, about 20% of the American population was considered significantly overweight. Today, even though there are an abundance of fitness centers and fat-free foods, the overweight/obese population approaches 65%.
More
---
Joke of the Month
Set It Free

If you love something, set it free. If it comes back, it was, and always will be yours. If it never returns, it was never yours to begin with. If it just sits in your room, messes up your stuff, eats your food, uses your phone, takes your money, and never behaves as if you actually set it free in the first place, you either married it or gave birth to it.
~ http://www.jokesgallery.com/
---
Know
Your Fruits and Veggies™ -
Apricots
By Dawn Swidorski, Public Outreach Director
Apricots are small sweet fruits with a golden orange color, velvety skin and flesh and slightly juicy when perfectly ripe and a delicate aroma. Some describe their flavor as musky, with a faint tartness that lies somewhere between a peach and a plum. The apricot (Prunus armeniaca) is actually a relative of the plum.
The apricot has been cultivated extensively for quite some time. It is believed to be native to China and was cultivated in India as early as 3000 BC. Its introduction to Greece is attributed to Alexander the Great and the Roman General Lucullus (106–57B.C.) exported them from Armenia to Europe.
More
---
Glagla™ Shoes
The Perfect Shoe for Diabetics! A Great Shoe for Non-Diabetics!
Adults - Youth - Kids - Men's - Women's
Many Colors - Most Sizes Available
Click here
As a part of
Glagla USA's
charitable committment, a portion of each shoe sale is donated to Defeat Diabetes Foundation. advertisement
---
---
Diabetes Support Groups Database

We've developed a listing of Diabetes Education Programs and
Diabetes Support Groups
in all 50 states and the District of Columbia.

---
This concludes the Defeat Diabetes® E-Lerts™ Newsletter.
If you're not already receiving E-Lerts™ each month, please join us and
subscribe
to the Defeat Diabetes« E-Lerts™ Newsletter.
To unsubscribe, please go to our
unsubscribe
form.
Defeat Diabetes Foundation is a 501(c)(3) nonprofit charity. Our web site is secure and all donations are tax-deductible.