This one's from Harry P., El Paso, TX.
April is DEFEAT DIABETES® MONTH
Diabetes is a condition for which there is no cure. Once you've got it, that's it. So, your best protection against this nasty, insidious "disease" is prevention. And, this is something that we know, absolutely, how to do 95% of the time in Type 2 diabetes.
In response to this epidemic, Defeat Diabetes Foundation has launched a meaningful ALERT! to the American people and people worldwide. It is an annual ALERT! which carries on for the entire month of April. This means that every April, from now on, will be known as DEFEAT DIABETES® MONTH. We have prepared a number of awareness points and activities you can, and should, incorporate into your daily lives. No matter your level of diabetes, age and/or gender you will find all content appropriate to improve your lives. If you are not diabetic, you will find valuable information to help you prevent ever developing diabetes. More
---
Studies, Clinical Trials and Surveys
Research facilities, drug manufacturers and universities are conducting studies, clinical trials and surveys for new drugs, behavioral habits and other investigational information. They are seeking individuals to participate in these studies and trials.
More Info
By: Bonnie Stein, M.Ed., C.P.T.S.
April 2010
You know that you need to exercise regularly for your diabetes. You've heard that exercise walking is the easiest program to start. You want to get into shape, get fit, get rid of stress and maybe some lose some extra pounds in the process. In your mind you're ready to get out and walk regularly. But physically, those shins just aren't cooperating. If any part of your lower leg (from the front of your ankle to below your knee) is screaming out in pain, you're a candidate for the tips below.

Don't give up so easily. The tips below will help strengthen your weak and wimpy shins and make them SHINS THAT WIN. Or at least shins that don't hurt. Before you complain about the front of your legs hurting, follow the prescription below. More
---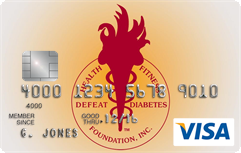 Rewarding for
you and us
Defeat Diabetes Foundation
Support Defeat Diabetes Foundation with every purchase
$50 donation by the bank when you first use the card plus ongoing contributions.
Earn Bonus Points
No annual fee and no additional cost to you.
---
Know Your Fruits and Veggies™:
Lettuce
By Dawn Swidorski, Public Outreach Director
April 2010
For the home gardener Lettuce (Lactuca sativa) is another one of those harbingers of spring. It is as a leaf vegetable belonging to the Asteraceae (or Compositae) family, which is known as the aster, daisy, or sunflower family. The name of the genus is derived from lac, the Latin word for "milk"which refers to the plant's milky juice.
Lettuce originated in the Mediterranean basin and has been served in dishes for more than 4500 years. The earliest depiction of lettuce is in the carvings at the temple of Senusret I (1926 BC) at Karnak in Egypt being served to the God Min, who considered it sacred. It also appears in writings such as The Contendings of Horus and Set. More
---
Diabetes Support Groups Database
We've developed a listing of Diabetes Education Programs and Diabetes Support Groups in all 50 states and the District of Columbia.

---
By Clarence Haynes
April 2010
Friendship - A wonderful story from our 92 year old diabetes activist from Toronto.
There once was a little boy who had a bad temper.
His Father gave him a bag of nails and told him that every time he lost his temper, he must hammer a nail into the back of the fence.
More
---
Dolphins Can Switch Off Insulin Resistance and Diabetes

---

Joke of the Month

Paying The Bill

Walking up to a department store's fabric counter, the pretty girl said, "I would like to buy this material for a new dress. How much does it cost?" "Only one kiss per yard," replied the male clerk with a smirk. "That's fine," said the girl. "I'll take ten yards." With expectation and anticipation written all over his face, the clerk quickly measured out the cloth, wrapped it up, then teasingly held it out.

The girl snapped up the package, pointed to the old geezer standing beside her, and smiled, "Grandpa will pay the bill."

www.jokesgallery.com

---

Subscribe

to get your free, monthly online

Defeat Diabetes® E-Lerts™ Newsletter.
---
This concludes the Defeat Diabetes® E-Lerts™ Newsletter.
If you're not already receiving E-Lerts™ each month, please join us and
subscribe
to the Defeat Diabetes« E-Lerts™ Newsletter.
To unsubscribe, please go to our
unsubscribe
form.
Defeat Diabetes Foundation is a 501(c)(3) nonprofit charity. Our web site is secure and all donations are tax-deductible.