This site complies with the HONcode standard for trustworthy health information:
verify here.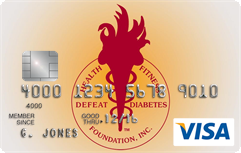 Rewarding for
you and us
Defeat Diabetes Foundation
Defeat Diabetes
Foundation
150 153rd Ave,
Suite 300
Madeira Beach, FL 33708
Governments & Organizations » Organizations
Search our News Articles Archives for diabetes and health news. Search by word or phrase. The latest article will appear first.
Experts Advise Beginning Daily Aspirin Later
Posted: Sunday, June 06, 2010
In a change, heart and diabetes groups push age threshold up from 40, to 50 for men, 60 for women.


Death from Diabetes will Change from 5th Leading Cause of Death to __?
Posted: Sunday, May 09, 2010
More than 70,000 Americans a year die from complications of diabetes, making it the country's fifth-largest medical killer. While that sounds dire, Novo Nordisk says the real picture is much worse.


April is Defeat Diabetes® Month
Posted: Thursday, April 01, 2010
Defeat Diabetes Foundation Presents 30 Days of Activities to Help Prevent the Disease and its Complications


Health Reform: A Year-by-Year Rundown of What Happens and When
Posted: Tuesday, March 23, 2010
The historic health overhaul that President Obama signed on Tuesday (in advance of further "fixes" in a reconciliation bill) will make sweeping changes in our health system. They include new consumer protections, expanded coverage of the uninsured, penalties for people and businesses who don't buy insurance, attempts to control rising costs, and Medicare savings and new taxes to pay for it all. Here is a year-by-year look at what's in store, assuming final Senate passage later this week of a package of amendments to the landmark bill both chambers already have passed:


Health Care Reform Bill Summary: A Look At What's in the Bill
Posted: Monday, March 22, 2010
The bill has passed the House and is ready for President Obama's signature. Here's a brief look at what's in it.


High Cholesterol, Diabetes Lead Drug Spending for the Elderly
Posted: Sunday, March 21, 2010
Purchases of cholesterol and diabetes prescription drugs by elderly Medicare beneficiaries reached nearly $19 billion in 2007 -- about one-fourth of the approximately $82 billion spent for medications for the elderly, according to the latest AHRQ News and Numbers.


The White House Blog: Voices of Reform
Posted: Wednesday, March 17, 2010
There's no issue that touches people more directly than health care, so there's good reason for people to want as much reassurance as they can get before the country goes ahead with reform. That's why those who work in our health care system day in and day out have a unique role in weighing in on the merits of any reform effort.

In an unprecedented show of diverse, even sweeping support, a virtual army of organizations came out in support of the President's health reform proposal this morning as Congress prepares to make its final decisions.


Unhealthy Foods Become Less Popular with Increasing Costs -- JAMA
Posted: Sunday, March 14, 2010
Adults tend to eat less pizza and drink less soda as the price of these items increases, and their body weight and overall calorie intake also appear to decrease, according to a new report.


Lasting Benefit Seen for Lifestyle Changes, Metformin in Diabetes
Posted: Sunday, February 28, 2010
For people at risk for Type 2 diabetes, a combination of diet, exercise and, to a lesser extent, treatment with metformin can help keep the disease at bay for 10 years, researchers said.


LoveFest is Happening at Whiskey Tango!
Posted: Wednesday, February 17, 2010
LoveFest 2010 is Sunday, FEBRUARY 28th from 2pm to 10pm at Whiskey Tango and is one AMAZING celebration that you do NOT want to miss! LoveFest is the first benefit of its kind. It's a totally 100% charitable,"nobody-makes-a-dime-but-the-charities" benefit. Everyone will be working that day for free- Bands, bartenders, staff, EVERYONE, and all money (tips included) will be donated. Each band will be playing for a charity of their choice and will be given an equal percentage of money to donate to their cause. Here is a listing of the bands playing and their chosen charities: ...Modern Bliss – Defeat Diabetes


Costa Rica Travel Corp. will donate a portion of the proceeds to and is a sponsor of Defeat Diabetes Foundation.
Send your unopened, unexpired test strips to

:


Defeat Diabetes Foundation
150 153rd Ave, Suite 300
Madeira Beach, FL 33708
DDF advertisement
Analyze nutrition content by portion
DDF advertisement