This site complies with the HONcode standard for trustworthy health information:
verify here.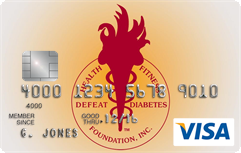 Rewarding for
you and us
Defeat Diabetes Foundation
Defeat Diabetes
Foundation
150 153rd Ave,
Suite 300
Madeira Beach, FL 33708
Governments & Organizations
Search our News Articles Archives for diabetes and health news. Search by word or phrase. The latest article will appear first.
Using Electronic Heath Records Leads to Better Diabetes Care
Posted: Friday, September 09, 2011
Use of electronic health records (EHRs) for patients with diabetes improves achievement of care and outcomes targets, researchers found.


Combination of Five Lifestyle Factors Linked to Lower Diabetes Risk
Posted: Thursday, September 08, 2011
Research data shows the importance of five lifestyle factors in reducing risk for type 2 diabetes.


NIH Research Model Predicts Weight With Varying Diet, Exercise Changes
Posted: Monday, August 29, 2011
Findings challenge one-size-fits-all weight assumptions.


New Study Shows Diabetes Surging Worldwide
Posted: Sunday, July 10, 2011
The number of adults worldwide with diabetes has more than doubled in the past three decades -- jumping to nearly 350 million -- and it continues to surge, according to a new study in the journal Lancet.


Public Knows about Diabetes, Yet Takes No Action
Posted: Saturday, July 02, 2011
Americans are well informed about the risks, dangers, and signs of diabetes, but that knowledge does not appear to translate into actions to prevent or control the disease, researchers reported.


First Lady, Agriculture Secretary Launch MyPlate Icon as a New Reminder to Help Consumers to Make Healthier Food Choices
Posted: Thursday, June 02, 2011
First Lady Michelle Obama and Agriculture Secretary Tom Vilsack today unveiled the federal government's new food icon, MyPlate, to serve as a reminder to help consumers make healthier food choices.


Americans Not Working Hard Enough
Posted: Monday, May 23, 2011
Despite repeated calls over the years by public health officials for people to increase exercise and physical activity, Americans are walking and cycling only a little more now than they were a decade ago.


FDA Approves New DPP-IV Inhibitor: Tradjenta (Linagliptin)
Posted: Sunday, May 08, 2011
A new prescription medication Tradjenta (linagliptin) has gained FDA approval for the treatment of adult Type 2 diabetes. Tradjenta will compete with two other drugs in the same family, Onglyza and Januvia.


FDA Spells Out Who Can Use Rosiglitazone
Posted: Sunday, February 13, 2011
Rosiglitazone label updated to include elevated risk of cardiovascular events.


USDA and HHS Announce New Dietary Guidelines to Help Americans Make Healthier Food Choices and Confront Obesity Epidemic
Posted: Monday, February 07, 2011
Agriculture Secretary TomVilsack and Secretary of the Department of Health and Human Services (HHS) Kathleen Sebelius announced the release of the 2010 Dietary Guidelines for Americans, the federal government's evidence-based nutritional guidance to promote health, reduce the risk of chronic diseases, and reduce the prevalence of overweight and obesity through improved nutrition and physical activity.


Costa Rica Travel Corp. will donate a portion of the proceeds to and is a sponsor of Defeat Diabetes Foundation.
Send your unopened, unexpired test strips to

:


Defeat Diabetes Foundation
150 153rd Ave, Suite 300
Madeira Beach, FL 33708
DDF advertisement
Analyze nutrition content by portion
DDF advertisement