This site complies with the HONcode standard for trustworthy health information:
verify here.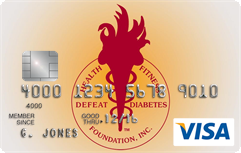 Rewarding for
you and us
Defeat Diabetes Foundation
Defeat Diabetes
Foundation
150 153rd Ave,
Suite 300
Madeira Beach, FL 33708
Governments & Organizations
Search our News Articles Archives for diabetes and health news. Search by word or phrase. The latest article will appear first.
Calls For More International Diabetes Funding
Posted: Friday, May 15, 2009
At a recent international meeting concerning non-communicable diseases, held in Doha, Qatar, professor Martin Slink, the president of the International Diabetes Federation (IDF), stressed the importance of more funding for diabetes, as well as other non-communicable diseases. Professor Slink specifically urged that an international effort to fight these diseases be added to the United Nations millennium development goals (MDGs).


Cost Of Diabetes Non-Adherence $11,000 Yearly Per Patient
Posted: Tuesday, May 12, 2009
Costs of not taking medications as prescribed have an impact on the US economy increasing the costs up to $100 billion per year. In addition, poor adherence to antidiabetic medications might explain why 43% of patients with diabetes mellitus do not reach adequate glycemic control.


Eat More, Move Less, and You Will Pay More
Posted: Wednesday, April 15, 2009
To help cut medical costs, your insurance company may soon be raising premiums if you have unhealthy habits such as...


Understanding Barriers to Diabetes Self-Care Helps Providers Empower Patients
Posted: Wednesday, April 15, 2009
Despite the provision of comprehensive management programs, patients are often unable to achieve the desired outcomes. It is essential to understand the barriers to diabetes self-care in order to promote successfully self-care behaviors."


FDA Announces New Recommendations on Evaluating Cardiovascular Risk in Drugs Intended to Treat Type 2 Diabetes
Posted: Thursday, March 26, 2009
The FDA recommended that manufacturers developing new drugs and biologics for Type 2 diabetes provide evidence that the therapy will not increase the risk of such cardiovascular events as a heart attack. The recommendation is part of a new guidance for industry that applies to all diabetes drugs currently under development.


New Guidelines for Physical Activity Intervention for Weight Loss
Posted: Wednesday, March 11, 2009
The American College of Sports Medicine (ACSM) has updated its guidelines for appropriate physical activity (PA) intervention strategies for weight loss and prevention of weight regain in adults.


Midwestern and Southern States Receive Least Federal Funding for Disease Prevention
Posted: Tuesday, March 10, 2009
New report finds public health programs at risk during economic downturn. Trust for America's Health (TFAH) and the Robert Wood Johnson Foundation (RWJF) released a new report that found Midwestern and Southern states received less funding from the federal government than Northeastern and Western states did in fiscal year (FY) 2008 for disease prevention programs, which can amount to millions of dollars in differences.


Medicare OKs Bariatric Surgery As Diabetes Treatment
Posted: Tuesday, February 24, 2009
The Centers for Medicare & Medicaid Services, or CMS, announced last week a clarification in its policy for Medicare coverage of bariatric surgery as a treatment for certain beneficiaries with type 2, or non-insulin-dependent, diabetes.


Fast Food Restaurants Linked to Overall Community Stroke Incidence
Posted: Saturday, February 21, 2009
Fast food restaurants, the common enemy of nearly all health conscious individuals and organizations, has recently been linked on a macro-scale, to strokes. According to a recent study, the number of fast food restaurants in a neighborhood, is directly linked to the number of strokes within that community, though the exact reason is unknown.


Free Public Exercise Programs Could Benefit Many Americans
Posted: Thursday, January 15, 2009
Numerous dangerous health conditions are a product of poor nutrition and exercise, but many individuals lack the motivation to change their ways and protect their health. Using a Brazilian model for free public exercise, researchers at Washington University of St. Louis, in conjunction with researchers in Brazil, have recently published a study suggesting that free public exercise programs in the United States could increase the activity levels and health of many individuals.


Costa Rica Travel Corp. will donate a portion of the proceeds to and is a sponsor of Defeat Diabetes Foundation.
Send your unopened, unexpired test strips to

:


Defeat Diabetes Foundation
150 153rd Ave, Suite 300
Madeira Beach, FL 33708
DDF advertisement
Analyze nutrition content by portion
DDF advertisement