This site complies with the HONcode standard for trustworthy health information:
verify here.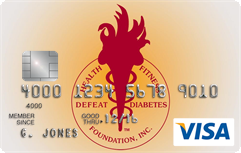 Rewarding for
you and us
Defeat Diabetes Foundation
Defeat Diabetes
Foundation
150 153rd Ave,
Suite 300
Madeira Beach, FL 33708
Governments & Organizations
Search our News Articles Archives for diabetes and health news. Search by word or phrase. The latest article will appear first.
Scientific Peer Review of Research Applications for the Department of Defense - Andrew P. Mandell
Posted: Thursday, August 06, 2009
Diabetes advocate, Andrew P. Mandell, MR. DIABETES® and Executive Director of Defeat Diabetes Foundation, Inc., recently participated in the evaluation of research proposals submitted to the Peer Reviewed Medical Research Program (PRMRP) sponsored by the Department of Defense.


Medical Spending On Obesity Reaches $147 Billion Annually
Posted: Wednesday, August 05, 2009
Obesity now accounts for nearly 10 percent of all medical spending.


Income Level Affects Treatment of Hyperglycemia
Posted: Wednesday, August 05, 2009
People with diabetes who live in less affluent neighborhoods are more likely to experience delays in treatment for hyperglycemia, according to a study.


Prevention and Detection of Diabetes Needs to Be a Priority
Posted: Wednesday, July 29, 2009
The National Changing Diabetes((R)) Program (NCDP), a program of Novo Nordisk, and several member associations recently urged President Obama and members of Congress to make the prevention, detection and treatment of diabetes, one of the nation's most pervasive and costly diseases, a priority in reforming the U.S. healthcare system.


Chain Menus will Post Calories
Posted: Wednesday, June 24, 2009
Large U.S. chain restaurants, criticized for their role in the country's obesity epidemic, agreed last week to support legislation that would require them to disclose calories on their menus. The question is, however, if people see the calories will they change what they order?


Artificial Sweeteners Found in Water Supplies
Posted: Thursday, June 18, 2009
Artificial sweeteners have many intended benefits for select individuals, such as diabetics and people suffering from obesity, but some research has suggested adverse effects, and even as a potential risk factor for cancer. A recent German study has concluded that water treatment plants do not remove artificial sweeteners totally from waste water, potentially putting entire societies at risk for artificial sweetener induced problems.


International Expert Committee Recommends A1c Test to Diagnose Diabetes
Posted: Wednesday, June 10, 2009
An international expert committee assembled by the American Diabetes Association (ADA), International Diabetes Federation (IDF), and European Association for the Study of Diabetes (EASD) is recommending the A1c assay as the new test for the diagnosis of diabetes.


Type 2 Diabetes Exploding in Asia
Posted: Wednesday, June 10, 2009
New research suggests diabetes is becoming a global problem, with more than 60% of all cases likely to occur in Asia. What is so unusual is that many affected individuals are not technically overweight or obese. That is, they are "metabolically obese," defined as having a normal body weight, but increased abdominal obesity.


Elevated A1c in Adults without a History of Diabetes in the U.S.
Posted: Wednesday, June 10, 2009
A single elevated A1C level (A1C >6%) is common in the general population of adults without a history of diabetes and is highly reliable for the detection of elevated fasting glucose. And 77% of individuals with A1C ≥6.5% had FPG ≥126 mg/dl which is the definition for the diagnosis of diabetes.


Healthy Lifestyles Declining in U.S.
Posted: Wednesday, June 10, 2009
Far fewer Americans are engaging in healthy lifestyles than there were just two decades ago, researchers say. So it is not hard to see why a diabetes epidemic is at our doorstep.


Costa Rica Travel Corp. will donate a portion of the proceeds to and is a sponsor of Defeat Diabetes Foundation.
Send your unopened, unexpired test strips to

:


Defeat Diabetes Foundation
150 153rd Ave, Suite 300
Madeira Beach, FL 33708
DDF advertisement
Analyze nutrition content by portion
DDF advertisement